The TCM Classic Film Festival 2018
April 26, 2018

-

April 29, 2018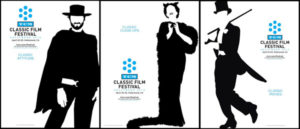 If you're a fan of classic film, you should know that the ultimate event for lovers of timeless movies, the TCM Classic Film Festival, will return to Los Angeles from April 26 to 29.
Martin Scorcese, Mel Brooks, James Ivory, and Gillian Armstrong are just a few of the acclaimed directors that will be honored or presenting their films during this year's festival. Among the acting luminaries to be interviewed this year: Eva Marie Saint, Jacqueline Bisset, Nancy Kwan, and Nancy Olson.
Now in its ninth year, the festival brings more than 80 movie screenings — including new restorations of landmark films — and panel discussions to several iconic Hollywood venues: the Chinese Theater (opened in 1927), 1922's Egyptian Theater, the historic Hollywood Roosevelt Hotel (home to the Academy Awards back in 1929), and the Cinerama Dome, which continues to occasionally screen films in wide-screen, three-strip Cinerama.
2018's theme, "Powerful Words: The Page Onscreen," will celebrate the importance of the written word and how it translates to the screen.
This year's highlights include a screening of The Producers hosted by director Mel Brooks; Sunset Boulevard, with co-star Nancy Olson in attendance; 1967's Romeo and Juliet, hosted by its stars, Olivia Hussey and Michael York; Grand Prix screened in Cinerama, with an interview from one of its stars, Eva Marie Saint; Nancy Kwan presenting the 1960 drama The World of Suzie Wong; Melvin van Peebles discussing his 1971 thriller Sweet Sweetback's Baadasssss Song; and Lon Chaney's 1925 silent film The Phantom of the Opera with live orchestral accompaniment.
In addition, Film Noir expert Eddie Muller (the "Czar of Noir") will oversee films and presentations focusing on the gritty glamour of Noir, while The Egyptian, one of only a handful of theaters in the country safely screening combustible (but beautiful) nitrate films, will host several screenings of classics on nitrate.
This festival attracts people of all ages from all over the world. Individual screening passes are $10 for students and $20 for general admission, while festival passes for all four days begin at $299. The festival officially kicks off on April 26 at 5 p.m. with the opening night party at the Roosevelt Hotel. For more info, check the link below.
German Edward Morales Agent Talent Manager