ROCK THAT FASHION
June 20, 2014 @ 6:30 pm

-

10:00 pm
RUNWAY & A&M Productions Presents:
ROCK THAT FASHION VIII & RUNWAY Summer Issue Release Party
SUMMER PARTY EDITION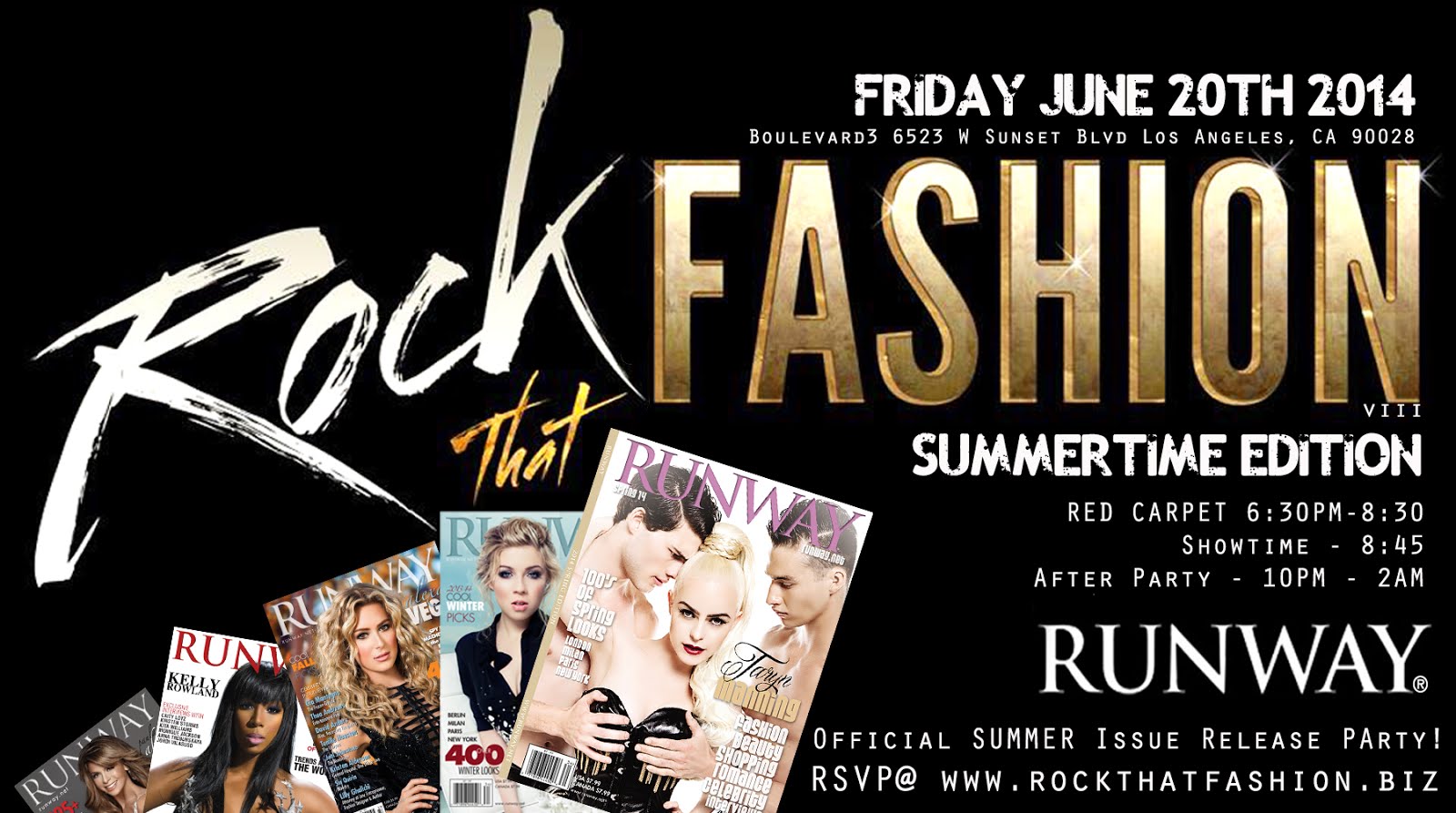 Rock That Fashion Promo Video
To see all past designers in action on the catwalk please visit Runwaytv.net
Los Angeles, CA  –  On Friday June 20th 2014 RUNWAY & A&M Productions is proud to bring to you Rock That Fashion VIII & RUNWAY's Official SUMMER Issue Release Party featuring our cover Bella Thorne!  RUNWAY's Summer issue is also proud to announce featured celebrity spreads for Keke Palmer, Ian Anthony Dale, Redaric Williams, Dominic Adams, Rochelle Aytes, Brande Roderick, Katie Cleary, Meitel Dohan, Bailey Noble, Aida Yespica, Coco Brown, Riley Smith , Mayte Garcia, Erich Bergen, Brittney Palmer, and many many more.
The star studded fashion event will be held under the summer night clear skies at the gorgeous Hollywood venue Boulevard3 @ 6523 Sunset Blvd, Los Angeles, CA 90028.  Valet is available.
Rock That Fashion VIII celebrates the fusion of music, dance, fashion, art, and pop culture at its best.  Everyone knows that when it comes to a good production, A&M is sure to deliver an experience guests will for sure remember.  Please visit our webiste www.rockthatfashion.biz to RSVP & for all additional periodic updates as we draw near the event – Open to all creative industry professionals, celebrity, entertainment, and fashion gurus with all RSVPs subject to approval & screening.
This is a PRIVATE invite only event from 6:30PM-10PM only.  After 10PM we are having the official after party with guest celebrity DJ and entertainment until closing.  The after party is open to guests who are ALREADY inside the venue and or those who purchased their access tickets for $20 at our site as well.  Our charity of choice this season will be the VH1 Save The Music Foundation with proceeds being donated, but if you would love to help with additional personal donation please goto www.vh1savethemusic.org/donate
Press & Media check in begins at 6:00PM.  Doors open at 6:30PM with red carpet from 6:30PM-8:30PM.  Guests will enjoy sites and senses in the open aired courtyard under the stars from which at that time, everyone can enjoy the bar, grab some horderves, mingle with other familiar faces & guests, and experience our SUMMER acoustic line up.
Acoustic Lineup (Courtyard):
Designers & Show:
Please visit www.rockthatfashion.biz after June 12th 2014 for updates and released information on showcased designers!
Tables & VIP:
VIP Tables and Bottle Service is available by contacting  Inforockthatfashion@gmail.com
Tables are best when pre-reserved but at anytime please ask for Mikey at the front.  We have several options and packages available.
323-929-2464
THE VENUE:  Boulevard3
Designed by the late Greg Jordan, former designer to the Trumps and New York socialites, Boulevard3 was conceived as "an English manor house with modern insides," a mix of old-world charm and digital generation appeal. Jordan's protege Oliver Furth finished executing Jordan's vision after his passing. Entering from Sunset Boulevard, guests pass through a large iron gate – a "door within a door" that foreshadows a theme that pervades the property – into a landscaped English courtyard. In the center sit a pair of reflecting pools, one ending in a 20 foot tall fireplace whose flames seem to float on the water.
Bordering the courtyard are canopied private rooms, their walls created from ficus bushes with a "floating" window cut in the middle, something one might expect to see in Alice in Wonderland. While earth tones define the central courtyard, each of the garden rooms is distinguished not only by a range of muted colors, but by specific fragrances: from lavender to gardenia to rose.
An intimate "manor library" takes guests inside Boulevard3. Gaining a sense of grandeur with its vaulted ceiling and marble fireplace, the library blends old and new through the art on its walls: ornate picture frames with DLP projection screens displaying dynamic images as opposed to portraits of dead kings and placid countrysides. When the main ballroom is open, the library serves as an antechamber; otherwise it can function as a freestanding space accommodating its own bar.
The intimacy of Boulevard3's library opens to a 7,500-sq. ft., three-level ballroom, including a 1,500-sq. ft. dance floor (the former Olympic-sized pool of the old Hollywood Athletic Club -prior to embodying the role of Flash Gordon, Johnny Weissmuller served as its lifeguard and trained to win a gold medal in the 1932 Olympics). Capable of accommodating a large stage for live performances, the ballroom features a main bar situated beneath 30′ high ceilings and a majestic skylight.
Around the periphery of the ballroom, a Mezzanine is set three feet above the main floor that provides a perfect locale to experience dance floor festivities. For the perfect mix of luxury and comfort, the mezzanine boasts a 36′ long plush velvet couch with unobstructed views of the "Niche of Possibilities". As you move onto the dance floor, Boulevard3's design further challenges the senses by interpolating the worlds of hospitality and entertainment. Interlocking platforms are carefully plotted to set the stage for dynamic performances that occur throughout the evening. Ranging from innovative cirque performances to full choreographed shows, Boulevard3's guests are provided an unforgettable experience.
German Edward Morales Agent Talent Manager