Blindspotting + Q&A w/ Daveed Diggs and Rafael Casal
June 5, 2018 @ 7:30 pm

-

10:00 pm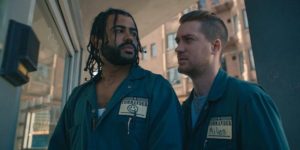 DESCRIPTION
WHAT: Bruin Film Society's SPRING FILM SERIES. An early screening of "BLINDSPOTTING" featuring a Q&A with producers/writers/stars, Daveed Diggs and Rafael Casal
WHERE: James Bridges Theater
WHEN: Tuesday, June 5th at 7:30pm
TICKETING INFORMATION
Priority seating will be given to UCLA students UNTIL 7:00 PM. Students will need both their online reservation as well as their Bruin Card for entry. After 7:00 PM, any remaining seats will be given to those in the standby line on a first come, first serve basis.
Q&A INFORMATION
Bruin Film Society is excited to announce that the post-screening Q&A will include Daveed Diggs, known for his Tony Award winning role as Lafayette/Thomas Jefferson in Hamilton and Rafael Casal, a producer and performer known for his work with the BARS workshop in NYC. Our Q&A will be moderated by Dr. Ellen C. Scott, Professor of media history at TFT.
Special thanks go out to Lionsgate for helping us put together this panel. Please note that guests are subject to change or cancellation at any time without notice.
SYNOPSIS
Collin (Daveed Diggs) must make it through his final three days of probation for a chance at a new beginning. He and his troublemaking childhood best friend, Miles (Rafael Casal), work as movers, and when Collin witnesses a police shooting, the two men's friendship is tested as they grapple with identity and their changed realities in the rapidly-gentrifying neighborhood they grew up in.
Longtime friends and collaborators, Daveed Diggs and Rafael Casal co-wrote and star in this timely and wildly entertaining story about friendship and the intersection of race and class set against the backdrop of Oakland. Bursting with energy, style, and humor, and infused with the spirit of rap, hip hop, and spoken word, Blindspotting, boldly directed by Carlos López Estrada in his feature film debut, is a provocative hometown love letter that glistens with humanity.
Email bruinfilms@g.ucla.edu for press requests.
Cover photo: Daveed Diggs as "Collin" and Rafael Casal as "Miles" in BLINDSPOTTING. Photo by: Ariel Nava. Courtesy of Lionsgate.
German Edward Morales Agent Talent Manager