City Hearts Festival
November 12, 2017 @ 2:00 pm

-

10:00 pm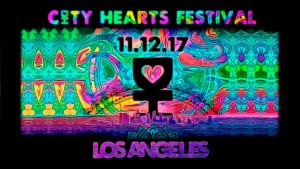 What's Up Desert Hearts Family,
It's with great pride we announce the newest love child of the Desert Hearts movement: our first ever CITY HEARTS FESTIVAL!
On November 12th in Downtown Los Angeles, we'll be taking the fully immersive vibe of our Desert Hearts Festivals and transplanting it smack in
the middle of the urban jungle. You can expect all of the staple Desert Hearts institutions to be there like Pile Palace, Dreamscape Collective Art Gallery, The Desert Hearts Fashion Show, Savage Hearts, Wine & Cheese, Symbiotic Creations, Funkworks, West Coast Eclectic Arts, the Vendor Village, Food Court, and our fully decked out Healing Sanctuary.
Tickets on sale NOW @ desertheartsfest.com.
Desert Hearts is so much more than just a party, a festival, or a record label. We are a community that's leading the charge of a love movement that's so much bigger than us. Our intention is to create as much positive energy in this world as possible, and we couldn't be prouder (more eager) to donate 25% of our ticket sales to the Los Angeles Mission homeless shelter in Skid Row. We're all part of a greater community, a global community if you will, and we aim to use our platform for positive social change. If you'd like to get involved or have any great ideas, please hit us up at info@deserthearts.us.
House, Techno, and Love… We Are All Desert Hearts.
21+
~ Tickets ~
On Sale NOW
www.desertheartsfest.com
~ Live Art ~
If you're interested in contributing your art, please send an email to marbs@deserthearts.us
German Edward Morales Agent Talent Manager