Dance At The Odyssey – Naked.
February 8, 2018 @ 8:00 pm

-

10:00 pm

$25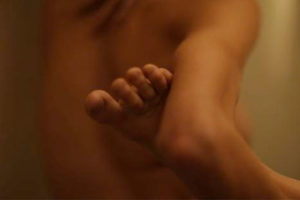 WHAT IS NAKED
THE EXHIBIT
Art Installation by Gina Teichert of San Francisco
Photos by Babette Delafayette of Seattle
Score by SILENTSHOUT
THE DANCE
naked. : an exploration of the nude human body through dance theatre by Corina Kinnear
How many times have you looked at a non-sexualized nude form?  My answer is little to none.  Living and working in Europe these past three years, for the first time I experienced communal showers, nude beaches, and saunas. While trying not to be voyeuristic, I became fascinated with my own curiosity in what the human body looks like when it is not skillfully shaped by clothing or posed for viewing in the way that is societally-prescribed as "most beautiful."  Nudity in art is nothing new, but marketing of what the body "should look like" is at a new level of infiltration, and it has become easy to lose track of what bodies actually look like.  How do we feel about the nude body?  Beautiful, ugly, interesting, confusing.  I invite you to be a voyeur with me and explore the multiplicity of your feelings on the naked body.
THE EXPERIMENT
An analytical conversation. First questions for the artists.  Then, the audience is questioned and becomes the focus of the study.  All conversation will be recorded as data on the perception of naked.
THE MUSIC
17 different Los Angeles indie bands finish the night with an unplugged music set.
German Edward Morales Agent Talent Manager