Debbie Allen Teaches 'Dance Sundays': Free Dance Lessons at The Willis!
March 11, 2018 @ 12:00 pm

-

2:00 pm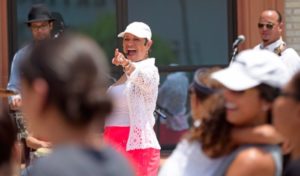 As if living in Los Angeles wasn't already cool enough, now you can take FREE dance lessons with Debbie Allen, the famed actress/dancer/choreographer, the second Sunday of every month, starting in January 2018 all the way through August!
Beginning on January 14, The Wallis in Beverly Hills will host "Dance Sundays" with Debbie Allen (most renowned for her role in Fame) and friends. Suitable for the whole family, you can learn tango, flamenco, salsa, African dance, Voguing or hip-hop during these lively afternoons or evenings.
Dance at The Wallis is made possible in part by a grant from the National Endowment for the Arts (NEA). In case you're not familiar with the NEA, it's a federal agency established in 1965 that aims to make the arts accessible to all Americans. Sadly, the current President of the Unites States has proposed eliminating the NEA in 2018. Here's to hoping that doesn't happen!
The schedule for Dance at The Wallis is as follows:
January 14 | 12pm – 2pm
Flamenco
(Wear shoes with a hard sole)
February 11 | 12pm – 2pm
Salsa Sunday
March 11 | 12pm – 2pm
Tango on the Terrace 
April 8 | 12pm – 2pm
Salsa Sunday
May 13 | 12pm – 2pm
African Dance 
June 10 | 5pm-7pm
Vogue
Celebrate Pride and unleash your inner diva as you learn the basics of Voguing, a stylized dance originating from the black and Latino LGBT community of New York City.
July 8 | 5pm – 7pm
Salsa Sunday
August 12 | 5pm – 7pm
Break the Floor Hip Hop
German Edward Morales Agent Talent Manager