EA Play 2017
June 10, 2017

-

June 12, 2017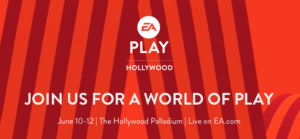 ABOUT EA PLAY 2017
EA PLAY is designed to connect audiences around the world, and bring them closer to the games they love. Whether in person or online, EA PLAY 2017 will connect fans around the world to EA's biggest new games through live broadcasts, community content, competitions and more.
Those that can attend in Hollywood will experience hands-on gameplay, live entertainment and much more. For anyone joining digitally around the world, EA PLAY will feature livestreams, deeper looks into EA's upcoming games and experiences, and content from some of the best creators in the community. For players, content creators, media, industry partners and more, EA PLAY 2017 will deliver a network of experiences to celebrate a world of play.
Much more about EA PLAY 2017, including attendance and ticket availability information, is coming in the weeks and months ahead. To stay informed about EA PLAY, sign up for the newsletter below or follow us on Facebook and Twitter.
Are you ready to PLAY? For the second year in a row, EA is hosting one of the biggest and best chances to get hands-on with our upcoming games.
From June 10 – 12, 2017, we're bringing the action to Hollywood, and you are personally invited to attend. Be the first to play Star Wars™ Battlefront II and our next Need for Speed™ game, as well as upcoming EA SPORTS™ titles: Madden NFL 18, FIFA 18 and NBA LIVE 18. There will be lots to see and do, so don't miss out. Get your tickets today – they're FREE!
There is no cost to attend EA PLAY, but tickets are limited, and available while supplies last.
For those at home, EA is inviting players to tune in to "Live @ EA PLAY", a 90-minute show streamed live from L.A. on EA.com. This special broadcast will bring viewers inside EA PLAY with in-depth gameplay walkthroughs, conversations with the development teams and behind-the-scenes looks at EA's hottest games.
Visit the EA PLAY website to learn more about the event and follow us on Twitter to stay up to date on all things EA PLAY.
Note: Attendees under 18 years old must attend with a parent/guardian. Tickets are required for all attendees. Parents/guardians must sign a waiver at registration.
German Edward Morales Agent Talent Manager