East LA Interchange: The Past and Present of an Immigrant Community
October 30, 2017 @ 7:00 pm

-

9:00 pm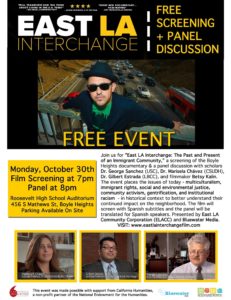 Join us for "East LA Interchange: The Past and Present of an Immigrant Community," a free screening of the award-winning Boyle Heights documentary. The screening will be followed by a panel discussion with notable scholars, Dr. George Sanchez (Professor of American Studies & Ethnicity, and History at the University of Southern California), Dr. Marisela Chávez (Associate Professor and Chair of Chicana/Chicano Studies at California State University Dominguez Hills), Dr. Gilbert Estrada (Assistant Professor of History at Long Beach City College), and filmmaker Betsy Kalin. The event places the issues of today – multiculturalism, immigrant rights, social and environmental justice, community activism, gentrification, and institutional racism – in historical context to better understand their continued impact on the neighborhood.
The film will screen with Spanish subtitles and the panel will have translation for Spanish speakers. Free parking is available on site at Roosevelt. Event location: Roosevelt High School Auditorium, Boyle Heights. Presented by East LA Community Corporation (ELACC) and Bluewater Media.
For more info and to see the film trailer, please visit www.eastLAinterchangefilm.com.
This event was made possible with support from California Humanities, a non-profit partner of the National Endowment for the Humanities. Visit www.calhum.org.
German Edward Morales Agent Talent Manager