Groundlings Sleepaway Camp
April 28, 2017 @ 8:00 pm

-

July 8, 2017 @ 11:00 pm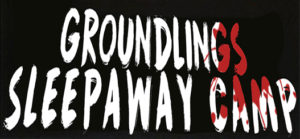 ARE YOU READY FOR S'MORE GROUNDLINGS?!
I Don't Know, But I've Been Told: The Groundlings New Show Is Made of Gold
Pull up a log, gather 'round the campfire, and come enjoy the latest sketches and improvisation presented by the legendary Groundlings Theatre with Groundlings Sleepaway Camp.  Let the always hilarious Groundlings, Los Angeles' premiere comedy troupe of 43 years, bring you laughs you'll want to write home about to mom and dad.
King of the ropes course, Camp Director Kevin Kirkpatrick, joins archery and arts-and-crafts Counselors Scott Beehner, Matt Cook, Laurel Coppock, H Michael Croner, Allison Dunbar, Josh Duvendeck, Heidi Gardner, Ryan Gaul, Patty Guggenheim, Kiel Kennedy, Andrew Leeds, Edi Patterson, Lisa Schurga, Schwartz and Greg Worswick.
Opening Night, Friday, April 28th, you'll be able to check out the mess hall for beer, wine and house cocktails, as well as tasty bites catered from local hot spot, The Darkroom, and coffee and desserts served by Toasted and Roasted. Groundlings Sleepaway Camp will run every Friday at 8:00 p.m. and Saturdays at 8:00 p.m. and 10:00 p.m. through July 8th. Tickets for Opening Night are $50.00 – all other showings will be $20.00 – and can be purchased at the box office or via phone at (323) 934-4747. Groundlings Theatre is located at 7307 Melrose Avenue in West Hollywood. For more information or to purchase tickets, please visit www.groundlings.com.
German Edward Morales Agent Talent Manager