IABD 30th Anniversary Festival Performances
January 25, 2018

-

January 27, 2018

$35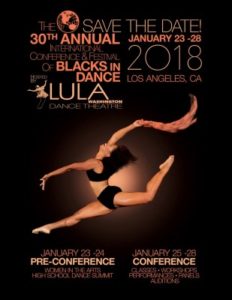 Experience a taste of dance and culture from all around the world through a series of performances right here in Los Angeles County! The 2018 IABD (International Association for Blacks in Dance) conference will be hosted by Lula Washington Dance Theater from
January 23rd through the 28th. Local residents are invited to attend multiple showcases during which dance groups from across the nation will perform breathtaking pieces. Join us to encourage artistic creativity and promote diversity in dance in a fun and inclusive environment! Tickets are sold online and at the Marsee Auditorium Box Office.
Artist Website: www.lulawashington.org
THURSDAY: Thursday's performance will include pieces by the Lula Washington's Youth and Children's Dance Ensemble, Allegro Performing Ensemble, Miriki Australian Indigenous Youth, Baltimore Dance Tech, Cleveland School of the Arts, Contemporary West Dance Theatre, Debbie Allen Ensemble and Red Birds, Detroit School Of The Arts and Cass Tech, Hill Dance Academy Theatre, LA County High School for the Arts, Philadelphia Youth Dance Ensemble, Renaissance Dance Workshop, Sacramento State University Department of Theatre and Dance, Stivers School for the Arts, and Tri-C Creative Arts Academy from Ohio.
FRIDAY: Friday's lineup consists of Lula Washington Dance Theatre, Howard University Dance, Alabama State University Dance Department, Atlanta Dance Connection, Eleone Dance Theatre, Elissa Monte Dance, Greene Works project, Leah Glenn Dance Theatre, Contemporary West Dance Theatre, Collage Dance Collective, 6 o' clock Dance Theatre, Bernard Gaddis, Dallas Black Dance Theatre 2, University of the Arts Dance Department, University of Las Vegas Nevada Dance Department, and Wayne State University Dance Department.
SATURDAY: On Saturday, witness the United States' leading black dance companies perform at the final show of the IABD 2018 conference. On Saturday, Dayton Contemporary Dance Company will perform "Rainbow Round my Shoulder", in honor of artistic master and dance pioneer Donald McKayle. This piece, considered an American classic, won a Bessie award in 2016 for its outstanding influence on contemporary dance. Dance Theatre of Harlem will perform "Change", a piece in salute to black women, choreographed by Dianne McIntyre. Audience members will also enjoy works from Dallas Black Dance Theatre, Abraham in Motion, Alvin Ailey American Dance Theatre, Deeply Rooted Dance Theatre, Ronald K. Brown/Evidence Dance Theatre, Forces of Nature, Cleo Parker Robinson Dance, performing works by Donald McKayle, Lula Washington Dance Theatre, and Philadanco.
German Edward Morales Agent Talent Manager