Kids Choice Awards 2019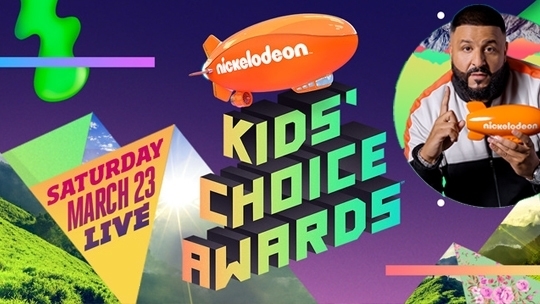 The 32nd Annual Nickelodeon Kids' Choice Awards will be held on March 23, 2019, at the Galen Center in Los Angeles, California, live on Nickelodeon and either live or on tape delay across all of Nickelodeon's international networks. This will be the sixth time the award show was held at the Galen Center since 2011. DJ Khaled will host the ceremony.
The Nickelodeon Kids' Choice Awards (also known as the KCAs or Kids' Choice) is an annual American children's awards ceremony show that is produced by Nickelodeon. It honors the year's biggest television, movie, and music acts as voted by viewers worldwide of Nickelodeon networks. Winners receive a hollow orange blimp figurine, a logo outline for much of the network's 1984–2009 era, which also functions as a kaleidoscope.
The show features numerous celebrity guests and musical acts. In recent years, slime stunts have been incorporated into the show. The KCAs also host live entertainment. It has also been known to overwhelmingly cover people with the network's trademark green slime. The series SpongeBob SquarePants has won the most KCA awards, with fifteen overall through the series' run. Individually, Selena Gomez and Will Smith have both won the most trophies with ten, followed by Amanda Bynes (7). Whoopi Goldberg is the only person to have won a Kids' Choice Award, along with the mainstream "EGOT" combination of an Emmy, Grammy, Oscar, and Tony. Rosie O'Donnell has hosted the show most times (8), followed by Jack Black (3), and John Cena (2).
Host:  DJ Khaled

Winners and nominees
The nominations were announced on February 26, 2019, by Double Dare host Liza Koshy via a nomination broadcast live on all Nickelodeon's social media platforms and channels. Voting will end on March 22, 2019. Winners are listed first, in bold.
Categories
Winners/Nominees
Movies
Favorite Movie

"Aquaman"
"Avengers: Infinity War"
"Black Panther"
"The Kissing Booth"
"Mary Poppins Returns"
"To All the Boys I've Loved Before"

Favorite Movie Actor

Chadwick Boseman (T'Challa/Black Panther) – "Black Panther"
Noah Centineo (Peter Kavinsky) – "To All the Boys I've Loved Before"
Chris Evans (Steve Rogers/Captain America) – "Avengers: Infinity War"
Chris Hemsworth (Thor) – "Avengers: Infinity War"
Dwayne Johnson (Will Sawyer) – "Skyscraper"
Jason Momoa (Arthur Curry/Aquaman) – "Aquaman"

Favorite Movie Actress

Emily Blunt (Mary Poppins) – "Mary Poppins Returns"
Scarlett Johansson (Natasha Romanoff/Black Widow) – "Avengers: Infinity War"
Joey King (Elle Evans) – "The Kissing Booth"
Lupita Nyong'o (Nakia) – "Black Panther"
Rihanna (Nine Ball) – "Ocean's 8"
Zoe Saldana (Gamora) – "Avengers: Infinity War"

Favorite Superhero

Chadwick Boseman (T'Challa/Black Panther) – "Black Panther"
Robert Downey Jr. (Tony Stark/Iron Man) – "Avengers: Infinity War"
Chris Evans (Steve Rogers/Captain America) – "Avengers: Infinity War"
Chris Hemsworth (Thor) – "Avengers: Infinity War"
Scarlett Johansson (Natasha Romanoff/Black Widow) – "Avengers: Infinity War"
Jason Momoa (Arthur Curry/Aquaman) – "Aquaman"

Favorite Butt-Kicker

Emilia Clarke (Qi'ra) – "Solo: A Star Wars Story"
Danai Gurira (Okoye) – "Black Panther"
Dwayne Johnson (Will Sawyer) – "Skyscraper"
Michael B. Jordan (Adonis Johnson) – "Creed II"
Chris Pratt (Owen Grady) – "Jurassic World: Fallen Kingdom"
Zoe Saldana (Gamora) – "Avengers: Infinity War"

Favorite Animated Movie

"The Grinch"
"Hotel Transylvania 3: Summer Vacation"
"Incredibles 2"
"Peter Rabbit"
"Ralph Breaks the Internet"
"Spider-Man: Into the Spider-Verse"

Favorite Male Voice from an Animated Movie

James Corden (Peter Rabbit) – "Peter Rabbit"
Benedict Cumberbatch (Grinch) – "The Grinch"
Shameik Moore (Miles Morales/Spider-Man) – "Spider-Man: Into the Spider-Verse"
Andy Samberg (Johnny) – "Hotel Transylvania 3: Summer Vacation"
Adam Sandler (Dracula) – "Hotel Transylvania 3: Summer Vacation"
Channing Tatum (Migo) – "Smallfoot"

Favorite Female Voice from an Animated Movie

Kristen Bell (Jade Wilson) – "Teen Titans Go! to the Movies"
Gal Gadot (Shank) – "Ralph Breaks the Internet"
Selena Gomez (Mavis) – "Hotel Transylvania 3: Summer Vacation"
Yara Shahidi (Brenda) – "Smallfoot"
Hailee Steinfeld (Gwen Stacy/Spider-Gwen) – "Spider-Man: Into the Spider-Verse"
Zendaya (Meechee) – "Smallfoot"

Television
Favorite Funny TV Show

"The Big Bang Theory"
"Bunk'd"
"Fuller House"
"Henry Danger"
"Modern Family"
"Raven's Home"

Favorite TV Drama

"A Series of Unfortunate Events"
"The Chilling Adventures of Sabrina"
"The Flash"
"Riverdale"
"Stranger Things"
"The Walking Dead"

Favorite TV Actor

Karan Brar (Ravi Ross) – "Bunk'd"
Grant Gustin (Barry Allen/The Flash) – "The Flash"
Neil Patrick Harris (Count Olaf) – "A Series of Unfortunate Events"
Caleb McLaughlin (Lucas Sinclair) – "Stranger Things"
Jace Norman (Henry Hart/Kid Danger) – "Henry Danger"
Jim Parsons (Sheldon Cooper) – "The Big Bang Theory"

Favorite TV Actress

Millie Bobby Brown (Eleven) – "Stranger Things"
Candace Cameron Bure (D.J. Tanner-Fuller) – "Fuller House"
Kaley Cuoco (Penny) – "The Big Bang Theory"
Peyton Elizabeth Lee (Andi Mack) – "Andi Mack"
Raven-Symone (Raven Baxter) – "Raven's Home"
Zendaya (K.C. Cooper) – "K.C. Undercover"

Favorite Reality Show

"America's Got Talent"
"American Idol"
"American Ninja Warrior"
"Dancing with the Stars: Juniors"
"Double Dare"
"The Voice"

Favorite TV Host
Favorite TV Judges
Favorite Cartoon

"ALVINNN!!! and the Chipmunks"
"The Boss Baby: Back in Business"
"The Loud House"
"Rise of the Teenage Mutant Ninja Turtles"
"SpongeBob SquarePants"
"Teen Titans Go!"

Music
Favorite Music Group
Favorite Male Artist
Favorite Female Artist
Favorite Song
Favorite Breakout Artist
Favorite Social Music Star
Favorite Global Music Star
Miscellaneous
Favorite Video Game
Favorite Social Star
Favorite Gamer
German Edward Morales Agent Talent Manager