LA Fashion Week Design Competition
October 18, 2014 @ 7:00 pm

-

11:00 pm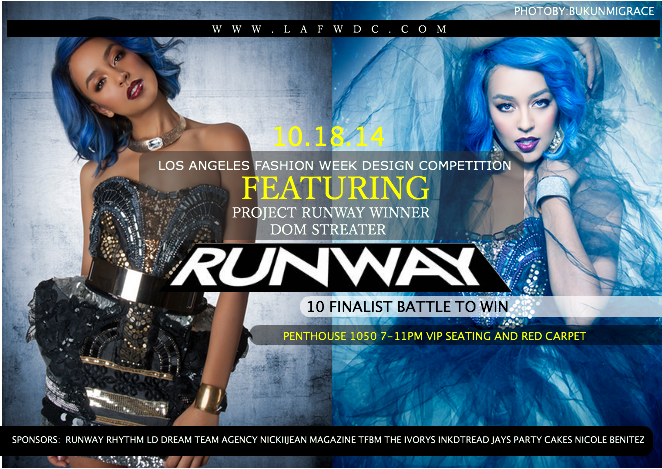 LA Fashion Week Design Competition will debut its high-profile Fashion event with official sponsors Runway Rhythm, TFB Magazine, NickiiJean Magazine, MW Productions, Jay's Party Cakes, 1st Class Fashion and Dream Team by Lust & Desire Agency (styling all hair and makeup looks). LAFWDC will bring a unique and creative experience to all participants as well as give exposure, visibility, support, and a voice to emerging talent from around the world.
Partnering with Runway Rhythm productions and Designer Dom Streater, winner of the season 12  of Project Runway (who will be showing her latest collection).  This event will bring couture and elegance  back to Los Angeles Fashion Week.
Some of fashion's notable insiders have been asked to select 11 finalists.  These finalists have be given their very own runway show.  Our prestigious panel of judges will decide the winner from our 11 finalists during the runway show.  The winner will be announced at the completion of the show; they will receive a $1,000 cash award, and a 4-page spread in Nickii Jean Magazine.  
The runway show will feature a dynamic group of all-star designers.  Michelle Uberreste (Project Runway: Under the Gun), Delaya Briscoe, Tooie Zimmerman, Joshua Ugarte, Madeline K. Smith (Winner of the KTLA Katwalk Designer Challenge), Shabnam Q-Love Allways, Jessica Huerta, Julieta Kleven, Aamber Aleyna, and Veejay Floresca
The evening will commence with red carpet arrivals beginning at 7:00pm and lead into the dynamtic Design Competiton for celebrities and VIP guests set to start at 9:30 pm. Hosted by our Celebrity Host.
The Los Angeles Fashion Week (LAFW) Design competition hosted by Lola Alexander events will take place on October 18th during Los Angeles Fashion Week.  It is a platform for creative minds and emerging designers.  It was created to give exposure, visibility, support, and a voice to emerging talent from around the world.
Runway Rhythm is a fashion entertainment group, not only displaying classic European high fashion, but also presenting a cohesive and dynamic approach to a new style of runway. Runway Rhythm embodies intricate choreography and complex movements that brings the runway to life.
Our Models are professional and well-rounded women and men that represent the industry at it's best.
German Edward Morales Agent Talent Manager