LA Harbor International Film Festival 2018
March 15, 2018 @ 10:30 am

-

March 18, 2018 @ 7:00 pm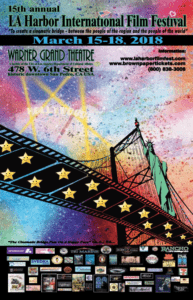 The LA Harbor International Film Festival (LAHIFF) showcases film and
video that reflects the harbor and all that it embraces – shipping and
commerce, fishing, sailing, water sports, sea life and the area's rich
ethnic and cultural influences – to create a cinematic bridge between
the people of the region and the people of the world.
The first LAHIFF, is a non-competitive, non-juried festival, with
programming by invitation and referral to be announced. Including a
variety of film and video from around the world; and educational
programs for youth and the general audience.
LA Harbor International Film Festival is a 501 (c ) 3 non profit
organization.
Warner Grand Theatre (WGT)
478 W. 6th St., historic downtown San Pedro, California – the Port of Los Angeles (POLA) A Facility of the City of Los Angeles Department of Cultural Affairs (DCA)
Program Schedule (Subject to change without notice)
Box Office opens one hour before program
***
Thurs. March 15 ~ Program A ~ 10:30 am "Read the Book, See the Movie" (Doors open 10 am) Education Outreach Program – Admission is FREE(public seating as available)
Featuring the novel 20,000 Leagues Under The Sea by Jules Verne & 35mm film 20,000 Leagues Under The Sea (U.S.A., Walt Disney Productions, 1954, 126 min.; Dir. Richard Fleischer)
***
Fri. March 16 ~ Program B ~ 7 pm ~ Opening Night POLA Premiere (Doors open 6:30 pm) 15: A Quinceanera Story
(U.S.A., DCTV & HBO Documentary Films, 2017, 112 min., Directors Matthew O'Neill & Thalia Sodi)
Four half hour documentaries reveal unique stores of the "right of passage" of 15 year old Latina girls; debuted on HBO Dec. 2017
Conversation and Q&A after screening with participants to be confirmed
***
Sat. March 17
Program C ~ 12 noon (Doors open 11:30 am) NewFilmmakers LA (NFMLA) On Location: The Los Angeles Video Project
(U.S.A., 2017; 90 min. 26 short 1-5 min. films)
Finalists of community engagement program sponsored by the City of Los Angeles, KTLA, Sunset Las Palmas Studios, L.A. City Council members Bob Blumenfield and Mitch O'Farrell Conversation and Q & A after screening with filmmakers
Program D ~ 7 pm (Doors open 6:30 pm) HOLLYWOOD NOSTALGIA TRIBUTE (HNT) (no discounts)
Bye Bye Birdie (U.S.A., Columbia Pictures1962, 112 min., 35mm print; Dir. George Sidney) 5-6:45 pm "Put On A Happy Face Red Carpet Gala" ~ WGT Mezzanine
$65 pre-paid by Feb. 28h ($75 at door if space) includes buffet supper, screening, souvenir program, party bag Send check or M.O. made out to LAHIFF to: P.O. Box 5202, San Pedro, CA 90733 – names listed at door
***
Sun. March 18 ~ "DocSunday" Presenting Sponsor Andeavor ~ POLA Premieres
Program E ~ 1 pm ~ FREE Admission (Doors open 12:30 pm) "Social Justice Theme" The Armor of Light (U.S..A., Fork Films, 88 min., Directors Abigail E. Disney & Kathleen Hughes)
Award winning film follows journey of Evangelical minister demonstrating the courage to preach about gun violence in America and courage of a mother seeking justice for murdered son; and their parallel effort for change and understanding.
Conversation and Q &A after screening with participants to be confirmed
Program F ~ 4 pm (Doors open 3:30 pm)
Finding Kukan (U.S.A., Nested Egg Productions, 2016, 75 min., Dir. Robin Lung) Award winning feature doc investigates story of Chinese Hawaii-born Li Ling-Ai, un-credited female producer of KUKAN,,1941 Academy Award ® winner about World War II China, that has been lost for decades. Conversation and Q&A after screening with director and other participants to be confirmed
German Edward Morales Agent Talent Manager