Metro Art Presents: The Mudbug Brass Band
February 13, 2018 @ 4:00 pm

-

5:30 pm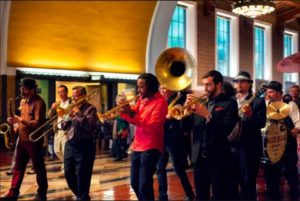 Join Metro Art Los Angeles in celebrating Carnival!
Tuesday, February 13
4:00 pm – 5:30 pm
Procession beginning in Union Station's East Portal at 4:00 pm
This event is free and open to the public. No tickets or reservations required.
Celebrate Mardi Gras at Union Station with The Mudbug Brass Band. Louisiana-rooted but Los Angeles based, the 8-piece New Orleans Jazz band is dedicated to the Second Line tradition, drawing from New Orleans traditional jazz, R&B, funk and Mardi Gras.
Hundreds of Second Line parades happen in New Orleans throughout the year, usually on Sunday afternoons, and are held in neighborhoods across the city. Ranging in size, level of organization and traditions, they always include a brass band, joyful dancing in the street and participants decked out in brightly colored suits, sashes, hats and bonnets, parasols and banners, blending the formality of a courtly function and the spontaneous energy of a roving block party.
————————–——————
PARKING / DIRECTIONS
Union Station is accessible via Metro Rail, Metro Bus and several municipal bus lines. Use the Trip Planner at metro.net for routes and connections. Car and bicycle parking are also available on site. Preferential seating for Metro TAP card holders (first-come, first-served)!
————————–—————-
Metro Art Presents showcases an exciting array of arts and cultural programs at historic Union Station. All events are free and open to the public. For more information: unionstationla.com
German Edward Morales Agent Talent Manager