Electronic Arts Club Nokia – it's time to play
June 12, 2016 @ 1:00 pm

-

June 14, 2016 @ 9:00 pm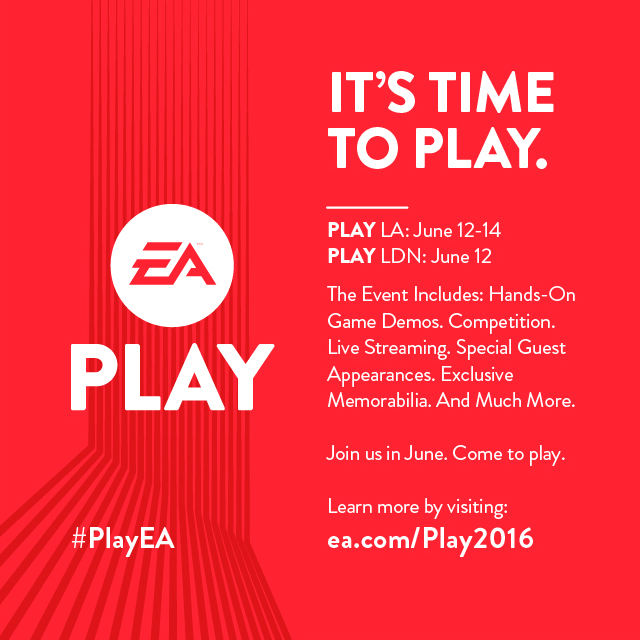 Every year gamers look towards the E3 conference to get all of the latest information and updates about their favorite games. The conference is attended by some of the biggest developers and publishers in the business but this time around it looks like EA is taking a different route. Merely two days before E3 2016 starts in June later this year, EA will be conducting its own public gameplay events in Los Angeles and London.
EA has decided to go with open events for the public instead of its traditional presence at the E3 conference. It's going to hold its press conference on Sunday, June 12th, instead of Monday at E3 2016 even though it has previously chosen the E3 stage multiple teams for its press conferences. It has even released its booth in the South Hall of the LA Convention Center meaning that it won't have game demos on the show floor.
"Hosting our own event allows us to connect directly with our players and create a meaningful experience for them," says an EA representative. At its own event players will get access to the games on Monday, June 13th while the event will be opened up to the broader gaming industry on June 14th so that all E3 attendees can pop in and see what EA has to show.
The free EA event in Los Angeles will take place from June 12-14 at Club Nokia. The event in London will only be on June 12th and will take place at The Mermaid. Attendees will be able to try out demos, participate in competitions, get exclusive memorabilia and much more.
Electronic Arts Inc. is a leading global interactive entertainment software company. EA delivers games, content and online services for Internet-connected consoles, personal computers, mobile phones and tablets.
Putting Our Players First.– Our players are the driving force behind everything we do. So this summer, we're opening up our world to you with unique new live events in Los Angeles and London. We'll bring the new games, we'll bring the demos, we'll bring the competition…and you get to go hands-on. Or join us online and immerse yourself to experience some of our biggest games of the year. Let's live to play together.
Players Attending Live -Experience hands-on game demos, live events, competition, special guest appearances, exclusive memorabilia & more.
Players Viewing Online – An experience that will take you into our event, livestreams for all our new games, and behind-the-scenes content.
German Edward Morales Agent Talent Manager