NewFilmmakers Los Angeles – Women Filmmakers & Stories Film Festival
March 24, 2018 @ 4:30 pm

-

11:30 pm

$5 – $15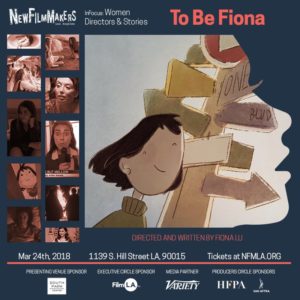 Join NewFilmmakers Los Angeles (NFMLA) in celebrating independent cinema and in spotlighting female filmmakers and stories on March 24th, offering a diverse set of voices and storytelling styles.
The night's first program will be InFocus: Female Cinema, a collection of short films from female directors and writers that include stories of mortality, motherhood, break-ups, career struggles and whether we fulfil our own childhood expectations for ourselves.
Second in the night will be the west coast premier of feature film Wonder Valley, a psychedelic psychological thriller with a horror tinge centered on four young women on a trip to the desert directed by Heidi Hartwig and written by Rhianon Jones.
The finale of the evening will be a narrative shorts program that spotlights the work of members of the women directors association Film Fatales across a variety of genres, including drama, dark comedy, experimental and surrealist.
$5 for single film programs or $15 for ALL FILMS with OPEN BAR!
Below is a schedule for the event:
Doors open @ 4:30PM
Shorts Program (5:00PM – 6:37PM) –
The Strangeness You Feel
Dir. & Writ. by Jackie Katzman
Ella, desperate to have a child, her clock ticking away, takes matters into her own hands.
Still Here
Dir. by Kholi Hicks
Writ. by Teresa Decher
Still Here explores the cycles of unstable relationships through a couple following the days after their recent break-up.
To Be Fiona
Dir. & Writ. by Fiona Lu
Little Fiona paid a visit to herself in the future trying to grow up immediately so that she could get rid of some 'issues' in her life.
The Spring
Dir. by Delaney Buffett
In August 2016, seven female filmmakers, all under the age of 25, traveled to Central Florida to film the women of Weeki Wachee Springs, for whom performing daily mermaid shows is more than a job – it's a craft.
Local News
Dir. by Chris Keener
Writ. by Amanda Lehan & Evan O'Brien
Driven young reporter SHANNON POTTER (Amanda Lehan) is good at the job and has great potential if she could only accept network news is not made for her. When she and her brash cameraman MITCHELL MURPHY (Evan O'Brien) go to investigate a story, they uncover an unexpected connection that reveals the heart of the city.
Der Dunkle Reigen
Dir. & Writ. by Dominik Bücheler
Shortly after the First World War the forbidden love between two young women causes a witch-hunt in an austrian mountain village.
Dancer on the Snow
Dir. & Writ. by Esra Saydam
A teenage boy has gone missing in a snowy village. A man and a woman search for him.
Feature Program (7:22PM – 8:38PM) –
Wonder Valley
Dir. by Heidi Hartwig
Writ. by Rhianon Jones
Four young women head out to a weekend get-away in the desert, only to have their dreams turn into nightmares after a bad drug trip leads to murder.
Film Fatales Shorts Program (9:23PM – 10:11PM) –
Commercial for the Queen of Meatloaf
Dir. by Dina Fiasconaro
Control
Dir. by Kimmy Gatewood
Writ. by Alison Becker
A depressed woman contemplates ending her life, if she can just get everything in order first.
Watch Screener: https://vimeo.com/220560197 Password: dignan
Bambina
Dir. by Alexis Ostrander
Writ. by Dani Bailes
An isolated expatriate experiences a psychotic break after giving birth to a child fathered by her married lover.
End of the Line
Dir. by Jessica Sanders
Writ. by Joanne Giger
Based on acclaimed writer Aimee Bender's surrealist short story about a lonely man who goes to the pet store and buys a tiny man in a cage. The film explores themes of power and abuse of power in a highly creative and unusual way. Starring Simon Helberg (Big Bang Theory) and Brett Gelman (Lemon). The film is Indiewire's Top 10 Must See Short Films, was featured in LA Times.
After-Party (10:26PM – 11:30PM)
German Edward Morales Agent Talent Manager