Sundance Next Fest 2017
August 10, 2017

-

August 13, 2017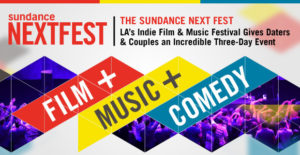 The fifth Sundance Next Fest is set for Aug. 10-13, returning once again to the Theatre at Ace Hotel in downtown Los Angeles. The weekend event has fast become a summer staple on the L.A. moviegoing calendar with its innovative mix of movies, music and live performance in a freewheeling atmosphere.
Next Fest picks a handful of titles from the year's Sundance Film Festival in Park City, Utah, and brings them to Los Angeles for their local premiere. The movie is then matched with a curated musical artist, a conversation among filmmakers or a special performance.
"Think of Sundance Next Fest as a warmer version of our festival that we've concocted just for Los Angeles," John Cooper​, director of the Sundance Film Festival, said in a statement. "We're premiering an incredible and high-energy lineup of independent films, served up with a side of music and talent, in a fantastic and totally unique venue."
Last year's event opened with So Yong Kim's "Lovesong," starring Riley Keough and Jena Malone, followed by a performance by dance-pop artist Shamir. Chad Hartigan's "Morris From America," starring Craig Robinson and Markees Christmas, was paired with a youth talent show.
Catherine Hardwicke participated in a conversation with "White Girl" filmmaker Elizabeth Wood, while John Landis was paired for a talk with filmmaker Babak Anvari and actress Narges Rashidi from "Under the Shadow." The movie "The Greasy Strangler," directed by Jim Hosking, closed out the festival followed by a boisterous performance by New Orleans rapper Big Freedia.
Previous musical performers have included Father John Misty, Tinashe, Warpaint, Sharon Van Etten and Sky Ferreira. Among those participating in past conversations have been Werner Herzog, Robert Townsend, Nicolas Winding Refn and Bret Easton Ellis.
This year's festival will feature for the second year an event space for ticket holders adjacent to the Ace Hotel known as Next Door, featuring food trucks, drinks, games and events.
Weekend and daily ticket packages are on sale now, with early-bird pricing until June 5. Individual tickets go on sale later this summer. For more information, go to sundance.org/next.
German Edward Morales Agent Talent Manager