Sunday Funday Grooves
April 22, 2018 @ 11:00 am

-

3:00 pm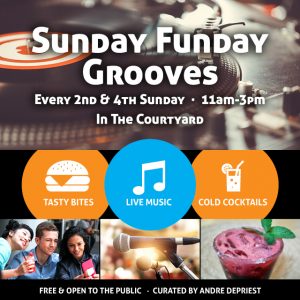 Every 2nd & 4th Sunday | 11am-3pm
TASTE Food Hall Courtyard
Free & Open to the Public
4/22 | Mystical Joyride & Know-Madik
www.know-madik.com
https://www.mysticaljoyride.com/press-kit
11am-11:30am | DJ LeeClayBang
11:30am-12:30pm | Youth Performers
12:30pm-1:00pm | DJ LeeClayBang
1:00pm-1:30pm | Experimental Grooves
1:30pm-2:00pm | Know Madik
2:00pm-2:30pm | Mystical Joyride
2:30pm-3:00pm | Experimental Grooves
Bradley Mayo aka Know-Madik is a rising independent hip-hop artist, songwriter, producer etc with music featured on the hit tv show Empire, Netflix, ESPN, NHL Network, American Ninja Warrior, and more. Know-Madik has collaborated with the likes of Sublime with Rome, Prodigy of Mobb Deep (R.I.P.), Dirty Heads, and Tim Myers (One Republic). After surviving a near life ending battle with cancer, he is hard at work creating music with his long time family at Fresh Goods Music. Know-Madik is known for his original tone and cadence as well as his impeccable lyrical & freestyle skills. His consistent positive message & feel good subject matter brings all walks of life together.

Mystical Joyride is the embodiment of our mysterious existence on this Earthly plane. These two travelers, Leah and Joel, bonded by marriage and soul, embark upon these seas of mystery on their new EP "Enter From The Inside". From rapturous discovery of the inner self, to joyous celebration and knowing, this project is a fresh cocktail of primal, cosmic and modern sounds hailing from vibrant Los Angeles, CA. From the dirt and grime of "Derdy Nature", the tribal hip-hop feels of "Hair Down" to the moving rhythms of "Enter From The Inside" there is a unique blend of elements from this self produced band. "3rd Eye" prompts the awakening of inner knowing, while "Existential Crisis" confronts the mystery head on.
Sunday Funday Grooves is best enjoyed with tasty bites and a cold margarita or beer from one of our 20 restaurants and eateries, including Loteria Grill, Gulp Sushi Alehouse, and TASTE Food Hall.
Sunday Funday Grooves, curated by Andre DePriest, happens every 2nd & 4th Sunday of the month.
German Edward Morales Agent Talent Manager