The Art of Sound Presents: Peter Manning Robinson In Concert
November 11, 2017 @ 7:00 pm

-

9:00 pm

$35 – $40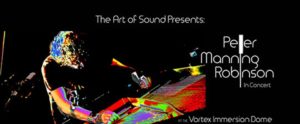 Vortex Immersion Media, Vista Haven Productions, Image Music and The Art of Sound present Experience Refractor Piano™ Immersion at the Vortex Immersion Dome in Downtown Los Angeles on Saturday, November 11, 2017 at 7:00pm and 9:00pm. These special immersive music and video art concerts will feature award-winning composer and pianist Peter Manning Robinson performing live with his invention, The Refractor Piano™. Similar in principle to how a prism refracts light, Robinson's invention refracts the sound waves of a piano. Award-winning projection designer Hana Kim, in collaboration with director-filmmaker Klaus Hoch – the Refractor Piano™ co-developer and the project's creative director – has designed a 360º visual journey that will expand the visceral experience of Robinson's music. For more information on Robinson and the concerts, please visit http://www.petermanningrobinson.com.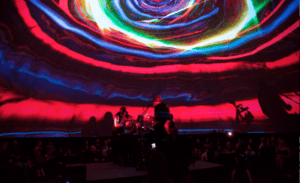 Inside Vortex Immersion Dome
In addition to performing, Robinson will also speak about his music and the Refractor Piano™. The first performance will begin at 7:00pm and a second concert will follow at 9:00 pm. Tickets are $35.00 before November 1st, and $40.00 after. All ages are welcome. Light refreshments will be available. These one-night only dual concerts – produced and directed by Hoch – will take place at Los Angeles Center Studios, in the Vortex Immersion Dome located at 450 South Bixel Street, Los Angeles, CA 90017. Parking is available at the studio lot (enter through the MAIN GATE). Tickets are available via Eventbrite at https://www.eventbrite.com/e/refractor-pianotm-immersion-experience-peter-manning-robinson-tickets-38166609356.
This will be Robinson's second appearance at the Vortex Immersion Dome (designed by Ed Lantz of Vortex Immersion Media). The Refractor Piano™ was first unveiled last April at Bergamot Station in Santa Monica, California. The highly acclaimed debut concert was followed by a second concert event in the fall of 2016 at MOCA, The Museum of Contemporary Art, Los Angeles.
German Edward Morales Agent Talent Manager