The Future is Female: A Concert for Women in Film
May 7, 2017 @ 8:00 pm

-

10:30 pm

$15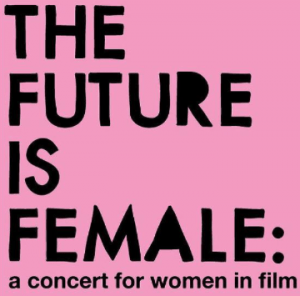 The Future Is Female : A Concert For Women In Film – presented by "FIF Concerts and Events Inc." – a non profit organization founded by Tori Letzler, with the goal to encourage and inspire female composers.
"If you build it, they will come" ……
I'm guessing you've heard this before. When it seems as though no one will give you a platform, what do you do? You make your own.
The goal of this concert is to shed light on how many women are currently working in this industry, talented women who are often overlooked.
This concert features 10 up and coming female composers, all currently working in Film, TV, and Video Games. Each composer will be presenting an original work, performed by a 31 piece orchestra brought to us with the help of The Hollywood Chamber Orchestra, run by Mark Robertson and Noah Gladstone.
Now more than ever, it is important that we support these women! In order for the industry to welcome us as equals, we have to be welcomed as such by our peers. We need your help, to show that there is room for all of us to come together and create beautiful music to help tell stories and inspire.
Tori Letzler
Tori Letzler has been in the music industry since the age of 9. As a child, Tori sang for the Metropolitan Opera's Children's Choir and later went on to tour internationally with Cirque du Soleil. After studying film scoring at Berklee College of Music, Tori moved to Los Angeles  5 years ago  and went to work at Remote Control Productions for two years. 
At the age of 25, Tori has been a vocal soloist on a wide array of scores including; Batman V Superman (Hans Zimmer), Thor: The Dark World (Brian Tyler), American Horror Story: Coven (Jimmy Levine) , and The Crown on Netflix (Rupert Gregson-Williams/Hans Zimmer). 
To date , Tori has scored two full length feature films and most recently scored a series of animated shorts for Waxploitation Records featuring  Danny Devito, Nick Cave, and more. Tori also writes for well known music libraries West One Music and Brand X, as well as custom scoring for trailers.
Jessica Weiss
Jessica Weiss is a producer/composer born and raised in New York City. She spent her early career assisting in various studios in Manhattan and in London at De Lane Lea Studios.  It was there, that Jessica was recruited by Hans Zimmer and Bob Badami to work at Remote Control Productions in Santa Monica, California.
After working on various films at Remote Control, Jessica decided it was time to venture on her own and work independently.  Since then, she has worked on music for feature films, documentaries, television series, and ad campaigns for clients  such as Moving Picture Music, Mark Burnett Productions, Dreamworks, Warner Brothers, Bridgestone, Freeform, Ball and Chain Productions, FullScreen, and Vimeo.
Jessica's most recent projects include additional writing for composers, John Debney & Andrew Grush of The Newton Brothers and co-scoring the Bollywood animated feature film "Hanuman" for Fox Films. Currently, she is music editing for the Amazon's series, "The Last Tycoon" for composer Mychael Danna and recording an EP for her indie rock project, 'Jessie & The Gentlemen.'
Edith Mudge
Edith Mudge received her BA in Music from Skidmore College, where her work in composition earned her the Periclean Award for achievement in a senior project. Before moving to Los Angeles in 2014, she spent two years in New York City working on electronic music and vocal arrangements for a cappella groups, and three summers in New Hampshire as the Music Program Director for Camp Onaway.
Edith composes for various contemporary bands, ensembles, podcasts, digital series, and films, with a specialty in choral music and synth pop. She currently writes and assists at Bleeding Fingers Custom Music Shop, and her work can be found in the Extreme Music library.
Jessica Rae Huber
Jessica Rae Huber is a film composer currently working alongside Bear McCreary as an Assistant Composer and Scoring Manager for his music production company Sparks and Shadows.
 Jessica has written additional music for projects such as The Walking Dead, Marvel's Agents of S.H.I.E.L.D., Outlander, Black Sails, Damien, Intruders, and Constantine.  She has collaborated with film makers and game developers from around the country, most notably, composing the music for the gritty drama, Luke, and the animated series The Lost Land of Yehey.
Anne-Kathrin Dern
Anne-Kathrin Dern is a German film composer, currently residing in Los Angeles, CA. She frequently collaborates with composers such as Klaus Badelt and Chris Lennertz. In the past she has worked on; Microsoft's "HALO V: Guardians", both seasons of Alan Menken's
and ABC's "Galavant", and The Weinstein Company's "Leap!" (aka "Ballerina") which also contains her orchestral arrangements to songs by Sia and Chris Braide.
While working with several directors and producers on her own films, she also has a vast background in virtual instrument sampling and is frequently involved in product development, beta testing, and demo writing with companies like Cinesamples, VIR2 / Big Fish Audio, and SonicSmiths.
Perrine Virgile-Piekarski
Perrine Virgile-Piekarski is a film and TV composer based in Los Angeles, CA. A native of France, she studied piano and composition for 10 years at the Classical Conservatory in France and earned a degree in Sound Engineering. She moved to Boston in 2010 to study at Berklee College of Music.
After graduating with a dual major in Film Scoring and Music Business, she moved to Los Angeles to start her career. She currently works alongside composer Jeff Russo (Fargo, The Night Of, Legion) as an Assistant Composer and writes and arranges additional music for TV shows (Legion, The Night Of, American Gothic, Channel Zero), videogames (What remains of Edith Finch), and films (Submission, Three Christs).
Brooke deRosa
Brooke deRosa is an award-winning film, television, and theater composer.  Miss deRosa holds a double major in music and theatre from Washington and Lee University where she was a recipient of the John Graham Award in Fine Arts. To date, she has composed music for over twenty films and TV programs . The score for "The Search for Simon", directed by BAFTA winner Martin Gooch, which she co-composed was nominated for Best Score at the Monaco International Film Festival and won Best Score at the Portsmouth International Film Festival.  Her following collaboration with Mr. Gooch, "The Gatehouse," premiered at Raindance London.
As an internationally accomplished opera performer, she has been featured on Late Night With Jimmy Fallon, as well as the score for the Netflix/Marvel series "Luke Cage".
Most recently Brooke completed her first opera, based on the short story "The Monkey's Paw".  She is currently composing an opera based on Alice in Wonderland, from which the aria "Off With Their Heads" will have a premiere in 2017 in Toronto.
Vivian Aguiar-Buff
Vivian Aguiar-Buff is a film composer and music producer, originally from São Paulo, Brazil. She graduated in Film at the brazilian college FAAP, and in Composition/Film Scoring at Berklee College of Music.
Vivian developed gained her experience working at Remote Control Productions as part of Henry Jackman's team, collaborating on many scores such as "Captain America: The Winter Soldier," "Captain Phillips," and Academy Award winning "Big Hero 6" among many others.
Vivian is now founder and CCO of her own film scoring studio – 1M1 Arte – composing scores for several Brazilian and international feature films, TV series and other audiovisual projects.
Nami Melumad
 Nami Melumad is a Los Angeles based film composer and music producer, originally from Tel Aviv, Israel. Her credits include over 55 films, theater productions, commercials and video games. Her films have screened worldwide, claiming multiple international awards.
As an active member of Women in Film (WIF) and the Alliance for Women Film Composers (AWFC), Nami is passionately involved in the film community, and was recently invited to be a guest speaker at a Filmmakers Alliance masterclass held in Hollywood and is part of the judging team for TopShorts.
She is a graduate of Scoring for Motion Pictures and TV program (SMPTV) at the University of Southern California, where she was privately mentored by composer Thomas Newman. Nami holds a B.A. in multi-style composition from the Jerusalem Academy of Music.
Her works have been performed by the Haifa Symphony Orchestra, The Israel Sinfonietta Beer Sheva and Helix Collective Ensemble.  Having served 2 years in the army, Nami is a true team player.
Tangelene Bolton
Tangelene Bolton is a Film Composer in Los Angeles . Bolton worked as a studio assistant at Remote Control Productions and she now continues to lend her technical and musical hand to Film, TV and Video Game Composer, Bobby Tahouri (Rise of the Tomb Raider).
Tangelene is already making an impact in Hollywood as she has completed 3 independent feature films so far as leading composer.  Her goal is to continue to create an experience that lingers into the subconscious of the viewer, impacting and shaping their experience.
Lori Castro
Lori Castro is a recording engineer, mixer, studio manager and songwriter. Originally from San Antonio,Texas, she began her creative and technical journey playing guitar in a church gospel band and setting up and mixing local live shows. She then went to college for recording arts and then advanced her way into working at recording studios inside Austin,Texas and soon after to California, where she was mentored by record producer-Sylvia Massy. There, Lori co-produced, recorded and mixed many different genres of music for bands from around the world.
She then crossed over to film, where she has worked for the top film composers and top film score mixers in the industry. Lori went from working at Hans Zimmer's Remote Control Productions- as an in house audio engineer and mix assistant- to working for Steve Jablonsky as both studio manager/technician and audio engineer.
With her broad range of experience, she also helps to manage large productions for different projects, mentors students looking to pursue music production, at times a technical consultant, and records and mixes for other up and coming film composers and songwriters.
German Edward Morales Agent Talent Manager