The Kicktail Art Mixer
August 30, 2017 @ 5:00 pm

-

9:30 pm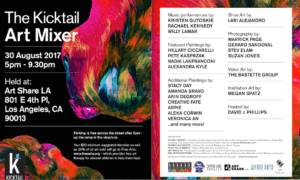 The charity event for Free Arts known as 'The Kicktail Art Mixer" is about to be unveiled next week, and features the work of emerging and notable Los Angeles artists. Free Arts was founded in 1977 to bring arts to children in foster homes in order to help them recover from the abuse and trauma they had suffered.
With the assistance of over 200 trained adult volunteers, Free Arts provides creative arts programs to more than 22,000 children in Los Angeles annually. More information on Free Arts can be found on their website at www.freearts.org.
The Kicktail Art Mixer will take place on August 30th from 5pm – 9:30pm at Arts Share LA – 801 E 4th Pl, Los Angeles, CA 90013.
There will be a red carpet, open bar, painters, photographers, music, and event organizers are asking guests to pay a minimum donation of $20 – with all proceeds going to Free Arts.
EVENT SPONSOR
The event is sponsored by Kicktail Energy Mixers, a new company from Laguna Beach that produces premium-grade, all-natural cocktail mixers with an energy boost without the distracting taste. They come in Ginger Beer, Club Soda, Cranberry, Lemon-Lime, Tonic, and Cola.  These mixers will be used with Crater Lake Spirits from Bend, Oregon; and for those that prefer beer there will be Pabst Blue Ribbon. Phillm Productions and Arts Share LA are also sponsors.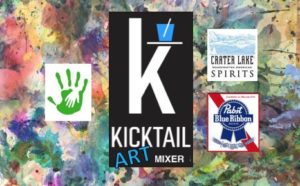 The event is open to individuals above 21 years of age and will have a tight security, free parking across the street after 5pm, as well as performances from notable artists such as:
Music:
Rachael Kennedy  (a writer on the song "Coupure Électrique"  featured on Brittney Spears' last album 'Glory')
Kristen Gutoskie (who plays 'Seline' on the show Vampire Diaries and is in the upcoming film 'The Maestro')
Willy Lamar  (a new singing project of acclaimed actor William Rothhaar)
Paintings:
Hillary Ciccarelli Art  (her work is featured at The Luxe Hotel in Beverly Hills)
Pete Kasprzak Art   (a famous Canadian artist now making waves in LA)
Nadia Lanfranconi  (Italian painter who is also a successful actress and model)
Alexandra Kyle  (actress who played Leah on Days of Our Lives)
…and many others to be announced!
Shoe Art:
Lari Alejandro
Photography:
Warrick Page Photography (photojournalist whose work has been seen in Rolling Stone, Time, New York Times, Washington Post, and many others).
Gerard Sandoval Photography (Lifestyle, Wedding and Editorial photographer shooting exclusively on 35mm and medium format film).
Stev Elam (who also directed the film "Moments of Clarity")
Suzan Jones (an accomplished artist)
Video Art:
The Bastette Group (a collective of ten LA-based female artists and designers)
Instillation Art:
Megan Spatz (Award winning designer for many films)
Hosted:
David J. Phillips (Canadian TV host and accomplished actor who has now produced 12 feature films in LA, including Amateur Night, L!fe Happens, Badsville and The Maestro).
Organizers believe this will be an unforgettable event and if there are more enquiries or requests for interviews, they can be directed to David J Phillips via mail: davidjosephphillips@gmail.com
Media Contact
Company Name: Phillm Productions
Contact Person: David J Phillips
Email: david@phillmproductions.com
Phone: +1 310-779-5650
Address:439 N. Van Ness Ave., Suite #2
City: Los Angeles
State: CA, 90004
Country: United States
Website: freearts.org
German Edward Morales Agent Talent Manager