59th Annual Grammy Awards 2017
February 12, 2017 @ 5:00 pm

-

9:00 pm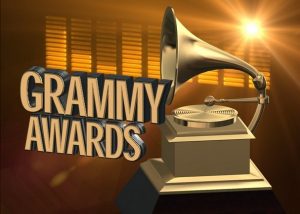 The 59th Annual Grammy Awards ceremony will be held on February 12, 2017. The CBS network will broadcast the show live from the Staples Center in Los Angeles. The ceremony will recognize the best recordings, compositions, and artists of the eligibility year, which runs from October 1, 2015 to September 30, 2016. The nominations were announced on December 6, 2016.
James Corden will host the ceremony for the first time. The "pre-telecast" ceremony (officially named The Premiere Ceremony) will be held on the same day prior to the main ceremony.
Performers:
The first set of performers were announced on January 16.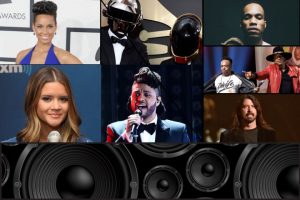 Nominees:

Pop
Dance/Electronic
Contemporary Instrumental
Rock
Alternative
R&B
Rap
Country
New Age
Jazz
Gospel/Contemporary Christian Music
Latin
Raíces — Banda El Recodo De Cruz Lizárraga
Hecho A Mano — Joss Favela
Un Azteca En El Azteca, Vol. 1 (En Vivo) — Vicente Fernández
Generación Maquinaria Est. 2006 — La Maquinaria Norteña
Tributo A Joan Sebastian Y Rigoberto Alfaro — Mariachi Divas de Cindy Shea
Conexión — Fonseca
La Fantasia Homenaje A Juan Formell — Formell Y Los Van Van
35 Aniversario — Grupo Niche
La Sonora Santanera En Su 60 Aniversario — Sonora Santanera
Donde Están? — Jose Lugo & Guasábara Combo
American Roots
"Alabama at Night"
"City Lights"
"Gulfstream"

Eric Adcock & Roddie Romero, songwriters (Roddie Romero and the Hub City All-Stars)

"Kid Sister"
"Wreck You"
Broken Promised Land — Barry Jean Ancelet & Sam Broussard
It's a Cree Thing — Northern Cree
E Walea — Kalani Pe'a
Gulfstream — Roddie Romero and the Hub City All-Stars
I Wanna Sing Right: Rediscovering Lomax in the Evangeline Country — (Various Artists); Joshua Caffery & Joel Savoy, producers
Reggae
Sly & Robbie Presents… Reggae For Her — Devin Di Dakta & J.L
Rose Petals — J Boog
Everlasting — Raging Fyah
SOJA: Live in Virginia' – SOJA
World Music
Children
Spoken Word
In Such Good Company: Eleven Years of Laughter, Mayhem, and Fun in the Sandbox — Carol Burnett
Under the Big Black Sun: A Personal History of L.A.Punk (John Doe With Tom DeSavia) — (Various Artists)
Comedy
Musical Theatre
Music for Visual Media
Composing
Arranging
Ask Me Now

John Beasley, arranger (John Beasley)

Good 'Swing' Wenceslas

Sammy Nestico, arranger (The Count Basie Orchestra)

Linus & Lucy

Christian Jacob, arranger (The Phil Norman Tentet)

Lucy In The Sky With Diamonds

John Daversa, arranger (John Daversa)

We Three Kings

Ted Nash, arranger (Jazz At Lincoln Center Orchestra With Wynton Marsalis)

You And I

Jacob Collier, arranger (Jacob Collier)
Do You Hear What I Hear?

Gordon Goodwin, arranger (Gordon Goodwin's Big Phat Band Featuring Take 6)

Do You Want to Know a Secret

John Daversa, arranger (John Daversa Featuring Renee Olstead)

Flintstones

Jacob Collier, arranger (Jacob Collier)

The Music
Somewhere (Dirty Blvd) (Extended Version)

Billy Childs & Larry Klein, arrangers (Lang Lang Featuring Lisa Fischer & Jeffrey Wright)
Packaging
Notes
The Complete Monument & Columbia Albums Collection
The Knoxville Sessions, 1929–1930: Knox County Stomp

Ted Olson & Tony Russell, album notes writers (Various Artists)

Ork Records: New York, New York

Rob Sevier & Ken Shipley, album notes writers (Various Artists)

Sissle And Blake Sing Shuffle Along
Waxing The Gospel: Mass Evangelism & The Phonograph, 1890–1990

Richard Martin, album notes writer (Various Artists)
Historical
The Cutting Edge 1965–1966: The Bootleg Series, Vol. 12 (Collector's Edition)

Steve Berkowitz & Jeff Rosen, compilation producers; Mark Wilder, mastering engineer (Bob Dylan)

Music Of Morocco From The Library Of Congress: Recorded By Paul Bowles, 1959

April G. Ledbetter, Steven Lance Ledbetter, Bill Nowlin & Philip D. Schuyler, compilation producers; Rick Fisher & Michael Graves, mastering engineers (Various Artists)

Ork Records: New York, New York

Rob Sevier & Ken Shipley, compilation producers; Jeff Lipton & Maria Rice, mastering engineers (Various Artists)

Vladimir Horowitz: The Unreleased Live Recordings 1966–1983

Bernard Horowitz, Andreas K. Meyer & Robert Russ, compilation producers; Andreas K. Meyer & Jeanne Montalvo, mastering engineers (Vladimir Horowitz)

Waxing The Gospel: Mass Evangelism & The Phonograph, 1890–1990

Michael Devecka, Meagan Hennessey & Richard Martin, compilation producers; Michael Devecka, David Giovannoni, Michael Khanchalian & Richard Martin, mastering engineers (Various Artists)
Engineered Album
The Ghosts Of Versailles

Mark Donahue, Fred Vogler & David L Williams, engineers (James Conlon, Guanqun Yu, Joshua Guerrero, Patricia Racette, Christopher Maltman, Lucy Schaufer, Lucas Meachem, LA Opera Chorus & Orchestra)

Dutilleux: Sur La Mêe Accord; Les Citations; Mystère De L'Instant & Timbres, Espace, Mouvement

Alexander Lipay & Dmitriy Lipay, engineers (Ludovic Morlot & Seattle Symphony)

Reflections

Morten Lindberg, engineer (Øyvind Gimse, Geir Inge Lotsberg & Trondheimsolistene)

Shadow of Sirius

Silas Brown & David Frost, engineers; Silas Brown

Under Stalin's Shadow – Symphonies Nos. 5, 8 & 9

Shawn Murphy & Nick Squire, engineers; Tim Martyn, mastering engineer (Andris Nelsons & Boston Symphony Orchestra)
Producer
Blanton Alspaugh

The Aeolian Organ At Duke University Chapel (Christopher Jacobson)
Bolcom: Canciones De Lorca & Prometheus (René Barbera, Jeffrey Biegel, Carl St. Clair, Pacific Chorale & Pacific Symphony)
Brahms: The Four Symphonies (Leonard Slatkin & Detroit Symphony Orchestra)
Copland: Appalachian Spring Complete Ballet; Hear Ye! Hear Ye! (Leonard Slatkin & Detroit Symphony Orchestra)
Corigliano: The Ghosts Of Versailles (James Conlon, Guanqun Yu, Joshua Guerrero, Patricia Racette, Christopher Maltman, Lucy Schaufer, Lucas Meachem, LA Opera Chorus & Orchestra)
Dvořák: Symphonies Nos. 7 & 8 (Andrés Orozco-Estrada & Houston Symphony)
Dvořák: Symphony No. 6; Slavonic Dances (Andrés Orozoco-Estrada & Houston Symphony)
Floyd: Wuthering Heights (Joseph Mechavich, Heather Buck, Vale Rideout, Susanne Mentzer, Kelly Markgraf, Georgia Jarman, Milwaukee Symphony Orchestra & Florentine Opera Company)

David Frost

Bach: The Cello Suites According To Anna Magdalena (Matt Haimovitz)
Bates: Anthology Of Fantastic Zoology (Riccardo Muti & Chicago Symphony Orchestra)
Beethoven: Piano Sonatas, Vol. 5 (Jonathan Biss)
Brahms & Dvořák: Serenades (Boston Symphony Chamber Players)
Fitelberg: Chamber Works (ARC Ensemble)
Ispirare (Melia Watras)
Overtures To Bach (Matt Haimovitz)
Schoenberg: Kol Nidre; Shostakovich: Suite On Verses Of Michelangelo Buonarroti (Ildar Abdrazakov, Alberto Mizrahi, Riccardo Muti, Duain Wolfe, Chicago Symphony Orchestra & Chorus)
Shadow Of Sirius (Jerry F. Junkin & The University Of Texas Wind Ensemble)

Marina A. Ledin, Victor Ledin

Friedman: Original Piano Compositions (Joseph Banowetz)
Moszkowski: From Foreign Lands (Martin West & San Francisco Ballet Orchestra)

Judith Sherman

American First Sonatas (Cecile Licad)
Berlin: This Is The Life! (Rick Benjamin & Paragon Ragtime Orchestra)
Centennial Commissions, Vol. II (Charles Neidich & Pro Arte Quartet)
Gernsheim & Brahms: Piano Quintets (Reiko Uchida & Formosa Quartet)
Latin American & Spanish Masterpieces For Flute & Piano (Stephanie Jutt)
Similar Motion (Momenta Quartet)
Tchaikovsky: Complete Works For Violin & Orchestra (Jennifer Koh, Alexander Vedernikov & Odense Symphony Orchestra)
Tower: String Quartets Nos. 3-5 & Dumbarton Quintet (Miami String Quartet)

Robina G. Young

Johnson: Considering Matthew Shepard (Craig Hella Johnson & Conspirare)
Lutosławski: Concerto For Orchestra; Brahms: Piano Quartet (Miguel Harth-Bedoya & Fort Worth Symphony Orchestra)
Mozart: Keyboard Music, Vols. 8 & 9 (Kristian Bezuidenhout)
Prokofiev: Piano Concertos Nos. 2 & 5 (Vadym Kholodenko, Miguel Harth-Bedoya & Fort Worth Symphony Orchestra)
A Wondrous Mystery – Renaissance Choral Music For Christmas (Stile An
Remixer
'"Cali Coast" (Psionics Remix)

Josh Williams, remixer (Soul Pacific)

"Heavy Star Movin'" (staRo Remix)

staRo, remixer (The Silver Lake Chorus)

"Nineteen Hundred and Eighty-Five" (Timo Maas & James Teej Remix)
"Only" (Kaskade × Lipless Remix)
"Tearing Me Up" (RAC Remix)
"Wide Open" (Joe Goddard Remix)
Surround Sound
Classical
Fitelberg: Chamber Works
Reflections
Serious Business
Steve Reich
Trios fom Our Homelands
Adams, J.: Scheherazade.2

Leila Josefowicz; David Robertson, conductor (Chester Englander; St. Louis Symphony)

Daugherty: Tales Of Hemingway

Zuill Bailey; Giancarlo Guerrero, conductor (Nashville Symphony)

Dvorák: Violin Concerto & Romance; Suk: Fantasy

Christian Tetzlaff; John Storgårds, conductor (Helsinki Philharmonic Orchestra)

Mozart: Keyboard Music, Vols. 8 & 9
1930's Violin Concertos, Vol. 2

Gil Shaham; Stéphane Denève, conductor (The Knights & Stuttgart Radio Symphony Orchestra)
Monteverdi

Magdalena Kožená; Andrea Marcon, conductor (David Feldman, Michael Feyfar, Jakob Pilgram & Luca Tittoto; La Cetra Barockorchester Basel)

Mozart: The Weber Sisters

Sabine Devieilhe; Raphaël Pichon, conductor (Pygmalion)

Schumann & Berg

Dorothea Röschmann; Mitsuko Uchida, accompanist

Shakespeare Songs

Ian Bostridge; Antonio Pappano, accompanist (Michael Collins, Elizabeth Kenny, Lawrence Power & Adam Walker)

Verismo

Anna Netrebko; Antonio Pappano, conductor (Yusif Eyvazov; Coro Dell'Accademia Nazionale Di Santa Cecilia; Orchestra Dell'Accademia Nazionale Di Santa Cecilia)
Daugherty: Tales Of Hemingway; American Gothic; Once Upon A Castle

Giancarlo Guerrero, conductor; Tim Handley, producer

Gesualdo

Tõnu Kaljuste, conductor; Manfred Eicher, producer

Vaughan Williams: Discoveries

Martyn Brabbins, conductor; Ann McKay, producer

Wolfgang: Passing Through

Judith Farmer & Gernot Wolfgang, producers

Zappa: 200 Motels

The Suites — Esa-Pekka Salonen, conductor; Frank Filipetti & Gail Zappa, producers
Bates: Anthology Of Fantastic Zoology

Mason Bates, composer (Riccardo Muti & Chicago Symphony Orchestra)

Daugherty: Tales Of Hemingway

Michael Daugherty, composer (Zuill Bailey, Giancarlo Guerrero & Nashville Symphony)

Higdon: Cold Mountain

Jennifer Higdon, composer; Gene Scheer, librettist

Theofanidis: Bassoon Concerto

Christopher Theofanidis, composer (Martin Kuuskmann, Barry Jekowsky & Northwest Sinfonia)

Winger: Conversations With Nijinsky

C. F. Kip Winger, composer (Martin West & San Francisco Ballet Orchestra)
Music Video/Film
I'll Sleep When I'm Dead – Steve Aoki

Justin Krook, video director; Brent Almond, Matt Colon, David Gelb, Ryan Kavanaugh, Michael Theanne, Happy Walters & Matthew Weaver, video producers

The Beatles: Eight Days a Week The Touring Years – (The Beatles)
Lemonade – Beyoncé

Beyoncé Knowles Carter & Kahlil Joseph, video directors; Ed Burke, Steve Pamon, Todd Tourso, Dora Melissa Vargas, Erinn Williams & Beyoncé Knowles Carter, video producer

The Music of Strangers – Yo-Yo Ma & The Silk Road Ensemble
American Saturday Night: Live From The Grand Ole Opry – (Various Artists)

George J. Flanigen IV, video director; Steve Buchanan, John Burke & Lindsey Clark, Robert Deaton, Pete Fisher & George J. Flanigen IV, video producers
German Edward Morales Agent Talent Manager