Dance At The Odyssey – L.A. Contemporary Dance Company
February 2, 2018 @ 8:00 pm

-

10:00 pm

$15 – $25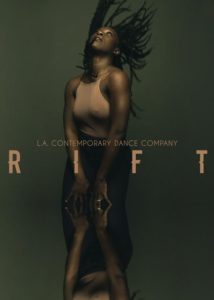 An evening of thought provoking, imaginative, and otherworldly contemporary dance featuring new work by three cutting edge Los Angeles choreographers: Genevieve Carson, Nathan Makolandra, and Stephanie Zaletel. The program features original music by LA composers Louis Lopez and Robert Amjarv, and San Francisco's New Villager.
The L.A. Contemporary Dance Company performs a diverse repertoire of contemporary and cutting edge work representative of L.A.'s vibrant culture. By affording choreographers and dancers the opportunity to create concert length work in an experimental and collaborative environment, LACDC strives to foster the development of new forms in the contemporary dance genre relevant to today's audiences.
PROGRAM:
NOMAD.LORE – Choreography by Nathan Makoldanrda
Set in a mystical world of colorful characters that exists within its own space and time, NOMAD.LORE. is an exploration of the universal journey of the hero, delving into the herculean efforts we make along our life journey, and how those efforts define our existence.
Stimulaze excerpts – Choreography by Genevieve Carson
Embodying the feeling of constant juxtaposition that makes up the human existence, Stimulaze sheds light on the small, fleeting moments of beauty that make the perpetual struggle of life all worth it. The dancers are challenged to grapple with feelings of frustration and exhaustion, and ultimately required to question their own motivation to engage.
summer (world premiere, Choreography by Stephanie Zaletel)
An exploration in the memory of a human life – demonstrating a search for sensations, psychological loops, the shock and stasis of loss, juxtaposed with pictures of the fleeting yet meaningful moments inside a daily life. Birthed out of loss and mourning, the work is an opportunity to acknowledge and celebrate the magic of the ordinary moments, the magnificence and brevity of our shared time.
CHOREOGRAPHERS:
Genevieve Carson, artistic director of LACDC, graduated cum laude with a BFA in Dance Performance from Chapman University. Genevieve's work has spanned across North America, the Philippines, Argentina, Sweden, and New Zealand. Her work has been commissioned by the US Embassies of Buenos Aires and Auckland, UC Santa Barbara, Musco Center for the Arts, Coachella Valley Repertoire Theater, Laguna Dance Festival, the Standard Hotel, and others.  Commercial choreography credits include Foster the People, Superbowl XLIX, Adult Swim, and Comedy Central. Additional credits include the Emmys, Samsung, BENCH, CottonOn, TEDx, Hikvision USA and music videos for Blood Orange, Active Child, Low, Justin Bieber and Saint Motel.    Genevieve has been a guest artist at Chapman University, Cal Arts, Cal State Long Beach, University of Auckland, and University of the Philippines. She is on faculty at the American Musical and Dramatic Academy (AMDA).
Nathan Makolandra is a graduate of The Juilliard School.  His work appeared in Juilliard's Choreographic Honors concerts, and is a recipient of the Hector Zaraspe Prize for Choreography. In 2011, he placed 1st runner up for the Capezio Award for Choreographic Excellence.  Nathan created Attitude du Cage with fellow L.A. Dance Project members, has choreography featured on "So You Think You Can Dance", and is a guest faculty member with New York City Dance Alliance. He has performed the works of Benjamin Millepied, William Forsythe, Merce Cunningham, Martha Graham, Hiroaki Umeda, Emmanuel Gat, Danielle Agami, Julia Eichten, and Justin Peck at Los Angeles' Union Station, the 2015 Cannes Film Festival, and the Gardens at the Palace of Versailles.
Stephanie Zaletel is the founding artistic director of szalt (dance co.) in Los Angeles.  Her work tackles subjects of the feminine experience, body memory (specifically as it pertains to trauma), and dream logic while creating and facilitating highly collaborative, site-sensitive, and socially fluent dance performance and practice.  She has presented her own creative work at Velocity Dance Center in Seattle, WA, REDCAT, The Hammer Museum, ACE Hotel, Current LA's Public Art Biennial, and was a Finalist in the 2015 McCallum Theater Choreography Competition. Her choreography has also been featured in music videos for recording artists, Jofridur, clipping, and Maxi Wild, in collaboration with directors Samantha Shay and Patrick Kennelly. Zaletel is an educator at AMDA LA, and has led master classes at LMU, Cornish College of the Arts, and Las Vegas Academy. She has also led improvisational movement classes for children with Down Syndrome. She was the 2016 MorYork Gallery Artist in Residence and is an active member of the Pieter Performance Space Council.
German Edward Morales Agent Talent Manager