Earth Day Live Festival 2020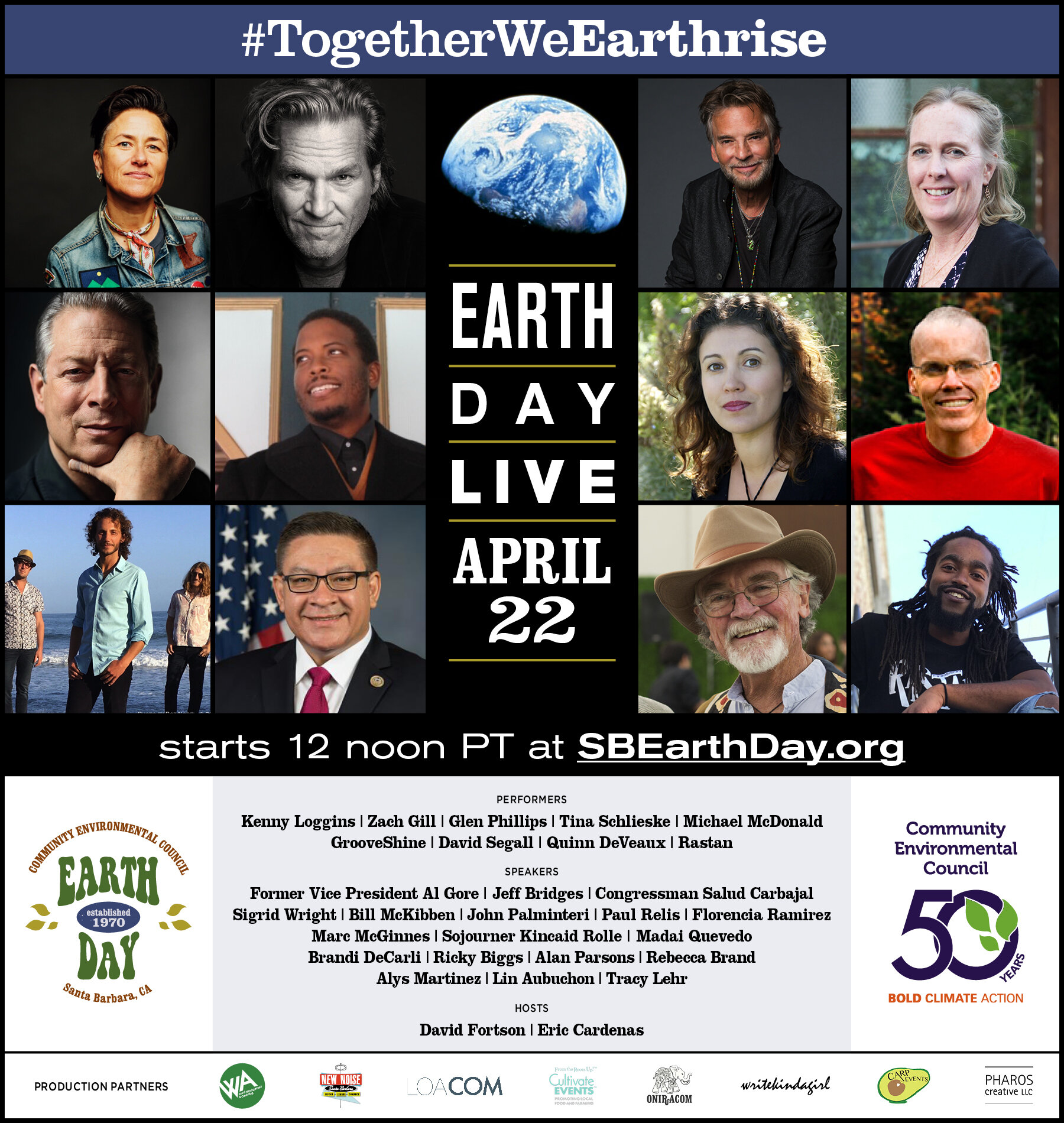 Help spread the word !   The Community Environmental Council (CEC) is hosting #TogetherWeEarthrise Earth Day Live Festival to gather for inspiration, community building, and climate action. The FREE livestream event begins at noon on Wednesday, April 22 and is available to view at SBEarthDay.org.
The #TogetherWeEarthrise Earth Day Live Festival honors the 50th anniversary of the creation of Earth Day, a designation inspired by Santa Barbara's environmental activism in response to the 1969 oil spill. The date also marks the 50th anniversary of the Community Environmental Council, festival creator and organizer. The  #TogetherWeEarthrise theme is in conjunction with the international Earth Day Network's campaign to bring communities together during the coronavirus crisis.
Featured festival performers 
Kenny Loggins, Glen Phillips, Zach Gill, Tina Schlieske, Michael McDonald, David Segall, GrooveShine, Quinn DeVeaux and Rastan along with poetry performances by Santa Barbara Poet Laureate Sojourner Kincaid Rolle and Santa Barbara slam poet Madai Quevedo.
Featured festival speakers
Former Vice President Al Gore, actor Jeff Bridges, Rebecca Brand, #CECSB founders Marc McGinnes and Paul Relis, musician Alan Parsons, past Earth Day Environmental Heroes Bill McKibben and Florencia Ramirez, U.S. Congressman Salud Carbajal, Farm from a Box founder Brandi DeCarli, John Palminteri, Alys Martinez, Tracy Lehr, Lin Aubuchon, and Ricky Biggs from KJEE
Featured Festival Discussions
CEC CEO Sigrid Wright interviews CA Secretary for Environmental Protection Jared Blumenfeld.
Youth and Climate Discussion, led by the UCSB Chapter of CalPirg and featuring other youth climate activists.
Community discussion with Elizabeth Rush, author of UCSB Reads book Rising: Dispatches from the New American Shore, moderated by CEC Board Member David Pellow. Part of the UCSB Arts & Lectures "Forces of Nature" series sponsored by CEC
Festival emcees
David Fortson and Eric Cárdenas, LOACOM
German Edward Morales Agent Talent Manager