Editing "Magic" for Amazon Series + Taking Your Mobile Device To A New Level at March 8th's LAPPG
March 8, 2017 @ 7:00 pm

-

10:00 pm

$5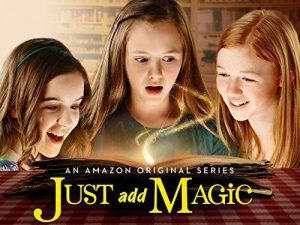 Join us for our March meeting where you will have the opportunity to gather valuable information, create important connections and win great prizes from our generous partners!
EDITING "MAGIC" ON AN AMAZON STUDIOS'  SERIES
Fresh from completing editing on the 2nd season of the family friendly comedy/drama series from Amazon Studios, "Just Add Magic," LAPPG member Greg Hobson will detail the workflow of this VFX heavy show and how the editorial process evolves, both creatively and technically.  Greg will share with us the schedule, time frame, what the post team consists of and whether there are any benefits or drawbacks to delivering a whole season at once, unlike traditional network week-by-week deliveries. Join us and become informed about what it's like being an editor on such a heavily creative show.
In addition to being a valuable member of LAPPG, Greg Hobson is an award winning editor having spent many years editing independent features, TV movies, and such popular Disney Channel shows as "Even Stevens", "Zeke and Luther" and "That's So Raven." Greg is also a producer, cinematographer, and a DGA award nominated director.
TAKING YOUR MOBILE DEVICE TO THE NEXT LEVEL
Producing high-quality video used to be a difficult enterprise but today, aspiring filmmakers, journalists, vloggers, live-streamers, and editors have the tools for creating incredible videos right at their fingertips–literally. Come explore different ways to add better audio, lighting, apps and more as we take our devices to the next level.
David Basulto is the founder of iOgrapher, leader in the world of mobile filmmaking and is the author of the new book, Life Camera Action. He has taught thousands of video enthusiasts across the globe how to turn their phones and tablets into powerful video-making machines. We are thrilled to have David returning to the LAPPG to share his experience and knowledge with us and to update us on his inspiring story, becoming a successful entrepreneur at age 51!
German Edward Morales Agent Talent Manager