DTLA Tech Mixer At Los Angeles Center Studios
March 8, 2017 @ 6:30 pm

-

9:00 pm

$18 – $37

Join Us For A Night Of Tech Networking At LA Center Studios! Film location of Mad Men, Jungle Book, Batman and The Terminator.
Our networking events attract professionals from entertainment, tech, social media, fashion, marketing and we're quite popular with influencers as well.
Meet new people and participate in lively discussions with outstanding names in the Los Angeles startup community. Register immediately for an Early Bird Ticket!
Details
Parking Available On Site
Discounted Beer And Wine
FREE $50 AMEX Gift Card Giveaway!
Please have a printed or mobile version of your ticket ready at the entrance. You'll be given a bracelet or sticker for discounted drinks.
Tickets to this event sell out very quickly!
Use code: knwevent for 10% off your purchase.
A party or meal at Los Angeles Center Studios combines all the glamour and glitz of Hollywood, but in Downtown's backyard. The magnificent Tower Building completed in 1958 features classic elements of vintage Modernism such as black terrazzo floors, glass and aluminum walls. The architectural gem has been restored to its original state.
The low-slung, modern cafe is fit for any studio mogul. Remarkable daytime views of the lush outdoor garden and city skyline across the way are relaxing by day and stunning by night. Custom design elements and lighting futuristically transform the cafe and intimate patios into elegant areas for pre-screening cocktail parties and sit-down dinners.
Operated by Guckenheimer, a leader in corporate foodservice, Flix Cafe offers full breakfast, lunch, daily specials, specialty coffee and catering. Diners will find delicious, seasonal fare in a cheery atmosphere. The food is simple, pure and full of flavor, with ingredients (often organic) sourced from local farmers and artisans. Everything is cooked from scratch, and the menus at the LACS feature a wide range of nutritious and gourmet dishes using the freshest ingredients available. Items include everything from roasted farm-raised meats to exhibition-style entrees made to order.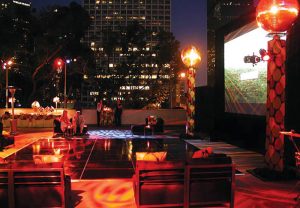 Flix Catering is perfect for private parties from casual buffets to network mixers, sit-down gourmet table service to elegant gala events. Whether the party is for 20, 200 or several thousand, Flix Catering and LACS will create the perfect menu, theme and atmosphere to transform any vision into a memorable experience.
The Beaudry Building offers a variety of special event areas in addition to Flix Cafe. This site includes two intimate patios with unobstructed skyline views, a 400-seat theater and a private dining area. L.A. Center Studios state-of-the-art sound stages were recently home to the L.A. Food & Wine Festival, Grilled Cheese Invitational and the hit TV shows "Mad Men," "Scandal," "Castle" and "NCIS."
The six, 18,000-square-foot sound stages have silent air conditioning and high-tech amenities. Sound stages can be reserved for large events and short-term projects. The 20-acre campus also offers a wide variety of enclosed city streets. The past party list reads like a who's who of the business and entertainment world: Sony PlayStation, Maxim, AOL/Time Warner, Warner Music Group, NBA All-Star Party, Activision, Electronic Arts, HBO and KPMG. Events have ranged from dinners for 100 guests to extravaganzas for 7,000 at this unique facility, where the gorgeous, 16-foot rotating door to the cafe alone is worth the visit. Guests are sure to remember their experience at Los Angeles Center Studios, whether it takes place on a sound stage or on the dramatic outdoor decks.
Flix Cafe, a green certified restaurant, is at Los Angeles Center Studios, 1201 W. Fifth St., (213) 534-3000. Open weekdays for breakfast 8-10:30 a.m. and lunch from 11:30 a.m.-2:30 p.m. Coffee Bar and snacks available 8 a.m.-4 p.m. For cafe and catering information, email flixcafe@lacenterstudios.com.
For special events email nwinters@lacenterstudios.com. Visit lacenterstudios.com.

KNW is a huge supporter of women in tech. We're proud to say that all of our events have featured outstanding women in the Silicon Beach community. If you're interested in helping us empower more women entrepreneurs please stop by our event and let us know how you want to get involved.
German Edward Morales Agent Talent Manager