Fashion Week LA 2016 Closing Night Event
March 18, 2016 @ 7:00 pm

-

11:30 pm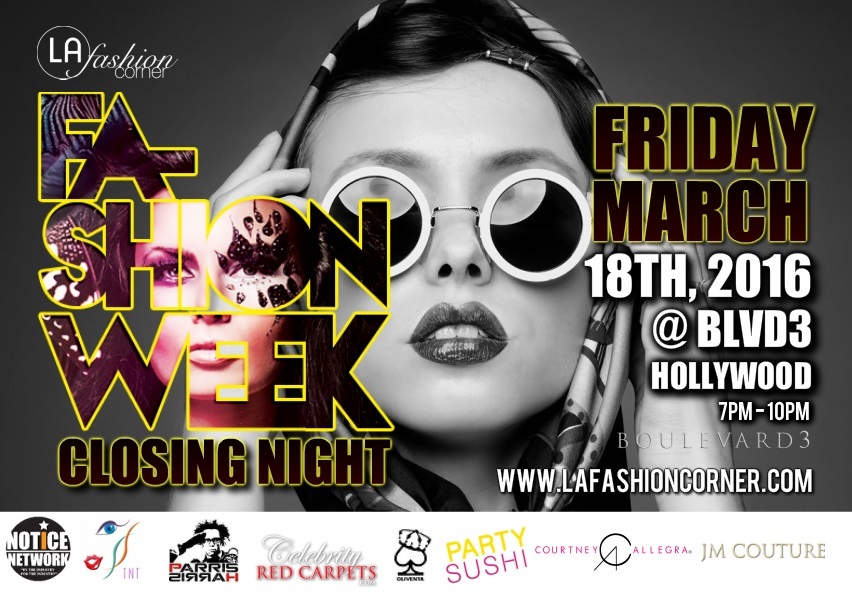 The Los Angeles Ultimate Fashion Week Wrap Party and Fashion Show…
L.A. FASHION CORNER 2016 FASHION SHOW
"CLOSING NIGHT OF FASHION WEEK"
Featuring Fashion Designs from Today's Hottest Designers and Exhibitors
Fashion Event 7pm-10pm | VIP/Red Carpet Reception 7pm-9pm | Fashion Show 9pm
Exclusive Afterparty 10pm-until
FEATURED FASHION DESIGNERS:
• PAULA MARIA COLLECTION
• OLIVENTA COLLECTION
• JW COUTURE COLLECTION
• CA11 by CourtneyAllegra
note: Must be 21yrs or older to attend
FEATURED FASHION DESIGNERS:
• TO BE ANNOUNCED
EVENT FEATURES:• General Admission is Free Online ($15.00 at door without RSVP)
• Star Studded RED Carpet 7pm-9pm [see our website for past celebrities]
• Spectacular Fashion Show starts at 9pm
• VIP Ticket Online ($25.00) is available (prices subject to increase closer to date)
• Mingle and network with Professional Fashion Designers, Stylist, Models, Photographers, Hair and Makeup Professionals and more
• Fashion Business Networking and Mingling Mixer from 7pm-9pm
• Vendors and Exhibitors
• Spectacular Venue
• Freeze Models
• Give-a-ways
• And much more…
Boulevard 3:
Built on the site of the former Hollywood Athletic Club, infusing it with more than 70 years of fabled history and celebrity antics, Boulevard 3 Hollywood is the brainchild of Skybar partner Peter Famulari.
Opened in September 2006, Boulevard 3 was sparked by Famulari's initial reaction to the space five years ago. Having experienced such New York venues as Studio 54 and The Tunnel in their heyday, he was also motivated to open a venue that shattered the malaise of the typical club scene. The venue features several bars and lounge areas, outdoor courtyard with reflecting pool & VIP cabanas, stage performers and secret surprises.
While eschewing nostalgia for its own sake, Famulari chose the name Boulevard 3 after viewing an old surveyor's map of Los Angeles. At the time, when the city was just beginning to take form, the east/west streets were marked by numbers, with "Boulevard3″ the designation for what would later become Sunset Boulevard. With a new paradigm for L.A.'s club scene brimming with possibilities, Famulari hopes to recapture a sense of grace, elegance and engagement that once put Hollywood on the map.
German Edward Morales Agent Talent Manager