FilmForAll | Femme Frontera Festival – Relativity School
March 31, 2017 @ 4:00 pm

-

8:00 pm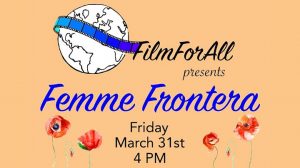 The Femme Frontera Festival is a showcase of six short films, all directed by female filmmakers who have a desire to provide a personal and unique perspective about the U.S.-Mexico border communities.
The FilmForAll Film Festival Committee was created to plan, organize and host film festivals for students of Relativity School, as well as outsiders. The committee has, as it's core mission, the goal to inspire minds, motivate change and connect humans. We are here to shine a light on diverse, international and up and coming content creators, breaking the status quo on who has and deserves a voice.
We propose a different event every semester, giving all students a chance to be a part of the club. As the events grow, we will always strive to make it more diverse, well-run and intricately shaped to fit its public.
FilmForAll Festival presents it's very first film festival: Femme Frontera!! We will be showcasing short films directed by female filmmakers from Texas, Mexico, and New Mexico, that focus on issues prevalent in the hispanic culture. There will be hors d' oeuvre's beforehand and the event is completely free! There will be a short Q&A with Angie Tures (director), Mónica Uribe (Radio Personality), and Cesar Saez (Musician) following the screening.
Relativity School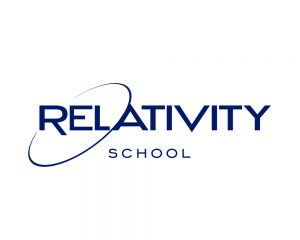 Founded in 1946, HUSSIAN COLLEGE has developed a reputation for its exceptional Commercial Arts programs while continuing to grow and achieve professional recognition. In 2012, a Hussian team set forth to further its mission of inspiring creativity in art, education, professional endeavors, and in life through collegiate-level education. As we sit in the midst of rapid technological shifts around visual and media art, artists have new opportunities to collaborate, innovate and become successful entrepreneurs. Relativity School is a branch campus of Hussian College and offers BFA degree programs with the sponsorship of Relativity Media.
Campus Mission
We seek to shape the entertainment professionals of tomorrow by fostering an educational experience rooted in collaboration and innovation. We want our programs to inspire excellence in a project-oriented learning environment designed to unleash the imagination and bring creative ideas to fruition under the mentorship of industry professionals. At the crossroads of art and commerce, we wish to train our students to think like entrepreneurs. We challenge them to embrace the ever changing technological landscape that shapes the future of entertainment. We ask them to think critically, solve problems, and deliver their ideas to the world with integrity using available social and digital platforms. We rejoice in freedom of thought while nurturing the confidence required in expressing it.
Learn at the center of where it all happens: our flagship campus is headquartered at Los Angeles Center Studios. This downtown 20-acre full-service studio for TV, film and commercial production is used by a variety of Hollywood productions such as Jungle Book, Straight Outta Compton, Lethal Weapon 4, True Detective, 24, Scandal, Mad Men, The Voice, Girl with the Dragon Tattoo, Scorpion and American Ninja Warrior.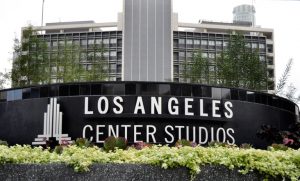 German Edward Morales Agent Talent Manager