LA Rooftop Cinema Club 2017
April 5, 2017 @ 8:00 pm

-

May 31, 2017 @ 11:00 pm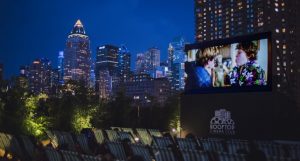 The masters of al fresco rooftop movie viewing are returning for their third season of screenings on the Montalbán's rooftop, and we have the exclusive details. Known for excellent film choices and a steady supply of snacks and booze, Rooftop Cinema Club is your snazzy, comfortable and less stressful alternative to other outdoor movie screenings.
Taking full advantage of the Montalbán rooftop's beautiful city view, R.C.C. promises to offer some of the most unique and incredible movie-going opportunities for film lovers throughout 2017. You don't even need to bring your own blanket or camping chair—Rooftop Cinema Club provides you with your very own comfy lawn chair, as well as blankets on request for the ultimate cozy experience. And instead of listening to the movie over loudspeakers, you'll get a set of wireless headphones so you never have to miss a word.
The series is packed with a wide selection of audience favorites, kicking things off in April with Blade Runner on opening night, and hitting up everything from recent favorites like Moonlight to classics like Back to the Future and Sunset Boulevard in the weeks that follow.
General admission tickets are on sale now. Click the film title below to purchase general admission tickets for $19 or the brand-new Rooftop Love Seats for $29. Doors open at 6pm each night and screenings begin at sunset.
See you on the rooftop!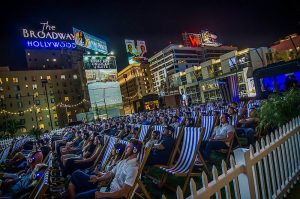 Note: Movies that are crossed off are sold out.
Wed April 5: Blade Runner
Thu April 6: Donnie Darko
Fri April 7: Goodfellas
Sat April 8: Mulholland Drive
Tue April 11: The Edge of Seventeen
Wed April 12: Close Encounters of the Third Kind
Thu April 13: Jackie
Fri April 14: Heat
Sat April 15: Dirty Dancing
Tue April 18: Raiders of the Lost Ark 
Wed April 19: Hell or High Water
Thu April 20: Vertigo
Fri April 21: Top Gun
Sat April 22: Moonlight
Tue April 25: Gimme Danger
Wed April 26: Back to the Future
Thu April 27: Hunt for the Wilderpeople
Fri April 28: Rogue One
Sat April 29: Zootopia
Tue May 2: Ghostbusters
Wed May 3: Drive
Thu May 4: Florence Foster Jenkins
Fri May 5: Selena
Sat May 6: Rogue One
Tue May 9: The Grand Budapest Hotel
Wed May 10: Memento
Thu May 11: Hidden Figures
Fri May 12: 10 Cloverfield Lane
Sat May 13: 20th Century Women
Tue May 16: Dr. Strangelove or How I Learned to Stop Worrying and Love the Bomb
Wed May 17: The Bad and the Beautiful
Tue May 23: The Big Lebowski
Wed May 24: Manchester by the Sea
Thu May 25: Lost in Translation
Fri May 26: Moana
Tue May 30: Sunset Boulevard
Wed May 31: L.A. Confidential 
German Edward Morales Agent Talent Manager