L.A. Beer Week 2017 Kickoff Festival
June 17, 2017

-

June 25, 2017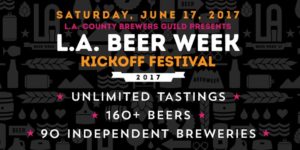 The 9th Annual L.A. Beer Week is here! Join us for our big Kickoff Festival on Saturday, June 17th at the Los Angeles Center Studios in the heart of Downtown L.A.! We are bringing the heat this summer with an awesome festival featuring 90 independent craft breweries, live music, great local food, games, a photo booth from Snap Yourself!, Hollywood Curling, and more!
Produced by the Los Angeles County Brewers Guild, #LABW9 will feature the largest number of Los Angeles County-based craft breweries — more than any other festival in town! We'll also have some very special guest breweries! Join us and support your local brewers and the nonprofit organization that strives to foster craft beer culture in L.A. County. Admission includes a keepsake glass and unlimited tastes of over 180 beers from 90 breweries. This is surely a not-to-miss summer festival!
*NEW FOR 2017: VIP Tickets include a premium keepsake glass, early entry at 12pm, and access to our new VIP Lounge area.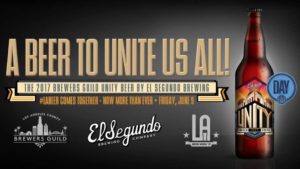 L.A. BREWERIES ATTENDING:
818 Brewing | The Brewery at Abigaile | Absolution Brewing | Alosta Brewing | Angel City Brewery | Arrow Lodge Brewing | Arts District Brewing Co. | Beachwood Brewing | Boomtown Brewery | Bravery Brewing | Brewyard Beer Co. | Brouwerij West | Cellador Ales | Claremont Craft Ales | Concrete Jungle Brewing Project | The Dudes' Brewing Co. | Dry River Brewing | Eagle Rock Brewery | El Segundo Brewing Co. | Frogtown Brewery | Hand-Brewed Beer | Highland Park Brewery | Homage Brewing | HopSaint Brewing Co. | Indie Brewing Co. | Iron Triangle Brewing | Karl Strauss Brewing | Kinetic Brewing Co. | King Harbor Brewing | Ladyface Ale Companie | Lincoln Beer Company | Los Angeles Ale Works | Lucky Luke Brewing | MacLeod Ale Brewing Co. | Monkish Brewing | Mumford Brewing | Mt. Lowe Brewing Co. | Ohana Brewing | Pacific Plate Brewing | Phantom Carriage Brewery | Pocock Brewing Company | Progress Brewing | Rob Rubens Distilling & Brewing | Sanctum Brewing | San Fernando Brewing | Santa Monica Brew Works | Scholb Premium Ales | The Brewery at Simmzy's | Smog City Brewing | State Brewing | Strand Brewing Co. | Three Weavers Brewing Co. | Twisted Oak Tavern & Brewing | Tranplants Brewing Co. | Verdugo West Brewing Co. | Wolf Creek Brewery | Yorkshire Square Brewery
GUEST BREWERIES ATTENDING:
Allagash Brewing | Almanac Beer Company | Avery Brewing | Bottle Logic Brewing | Brewery Rex | The Bruery | Chapman Crafted | Drake's Brewing | Enegren Brewing Co. | Firestone Walker Brewing Co. | Figureroa Mountain Brewing | Green Cheek Brewing Co. | Fort Point Brewing Co. | Institution Ales | The Lost Abbey | Modern Times Brewing | New Belgium Brewing | Noble Ale Works | Pizza Port Brewing | Reverend Nat's Hard Cider | Sierra Nevada Brewing
| Stone Brewing Co. | Topa Topa Brewing | Honest Abe Cider | 101 Cider House | Telegraph Brewing | The Rare Barrel | Track 7 Brewing Co. | Ventura Coast Brewing Co.
FOOD COURT:
3941 Tamales | Belly Bombz | BrewWings | Cousins Maine Lobster | Fun Life Crepes | The Greasy Weiner | The Grilled Cheese Truck | Mandoline Grill | My Sweet Temptations | Nam Prik Hot Sauce | Rice Balls of Fire | The Surfer Taco |
ADDITIONAL GUESTS:
2nd Craft Cold Brewing Co. | Soda Bar from Homebrewers of Los Angeles & more…
General Admission: $50
VIP Admission: $70
Designated Driver: $25
(*Enthusiast members receive 20% off up to 4 tickets – use your member number on your Enthusiast ID)

German Edward Morales Agent Talent Manager