LA Film Festival
June 14, 2017

-

June 22, 2017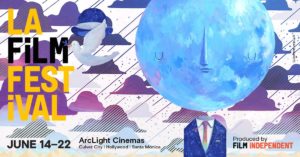 Taking place June 14-22, 2017, the LA Film Festival showcases compelling independent films, TV and episodic work from emerging storytellers, alongside filmmaker-driven studio titles.
The LA Film Festival is a premier platform for new works from emerging and established independent storytellers with unique voices and innovative visions.
The Festival fosters valuable alliances and working relationships between independent artists and the film industry. Signature programs include the Filmmaker Retreat, Coffee Talks, Master Classes, the Spirit of Independence Award, Fast Track (a film financing market) and Diversity Speaks (a forum for content creators from underrepresented communities).
With an attendance of more than 36,000 people, it screens more than 100 feature films. The event also includes world premieres of films such as Disney/Pixar's Brave, and a variety of panels, seminars, and free outdoor screenings.
In addition to feature films, it also screens short films created by high school students.
Films submitted to the Festival are reviewed by Film Independent's programming department, which evaluates each film, looking for the best in new American and international cinema.
In 2011, the Festival showed over 200 films, music videos and shorts from over 30 countries.

Opening Night
Wednesday, June 14th 
The Book Of Henry
Becks
Bill Nye: Science Guy
The Housemaid
Rabbit & Rogue
The Keeping Hours
Counterpunch
Maudie
Ali, The Goat and Ibrahim
Dark Blue Girl
Sports Program 2
Portlandia: A Look Back And A Look Forward
What We Started
The Classic
The Beguiled
Lost In Translation
Friday, June 16th
Humor Me
And Then I Go
Beauty Mark
Replace
Shorts Program 4
Baroness Von Sketch Show
The Sinner
Lady Macbeth
The Year of Spectacular Men
G-Funk
Brigsby Bear
Saturday, June 17th
Shot Caller
Liyana
Monkey Business: Adventures of Curious George's Creators
The Female Brain
Izzy Gets The Fuck Across Town
Future Filmmakers
#SHETOLDME: Women Storytellers Changing The Narrative- Globally
Shorts Program 1 
Shorts Program 3
Diversity Speaks: Transgender Visibility
Diversity Speaks: Whitewashing
Diversity Speaks: In Conversation 
Diversity Speaks: The Other
Diversity Speaks: Reclaiming Gay for Pay
Skid Row Marathon
Anything
A Midsummer Night's Dream
Built To Fail
Sunday, June 18th
Thank You For Coming
Out of State
Never Here
Thread
Opuntia
Stella Polaris Ulloriarsuaq
Catching Feelings
Nocturne
Shorts Program 2
Shorts Program 5
Shorts Program 6
Shorts Program 4
Dounmentary Now! Marathon
Coffee Talks: Directors
Coffee Talks: Actors
Coffee Talks: Composers 
Coffee Talks: Screenwriters
Diversity Speaks: State of Emergency 
Roller Dreams
And Then There Was Eve
Abu
Sun Dogs
Monday, June 19th
Submission
Midnighters
Patti Cake$
Village People
Mankiller 
Two Four Six
20 Weeks 
The Neighbor
Butterfly Kisses
Shorts Program 1
Yes, We Exist: Ava Dunvernay & Female Directors of Queen Sugar
Burn Motherfucker, Burn!
Mighty Ground
You Get Me
Annabelle: Creation
Tuesday, June 20th 
The BAchelors
It Stains The Sands Red
Whitney: Can I Be Me
Story of a Girl
Don't Come Back From The Moon
Moko Jumbie
Keep The Change 
In This Corner of the World 
On The Beach At Night Alone
Shorts Program 6
Shorts Program 3
Living On Soul 
Your Own Road 
Wednesday, June 21st
The Kids Are All Right
Everything Beautiful Is Far Away
The Big Sick
The Song of Sway Lake
Moss
Episodes: Indie Series From The Web
Desolation
The Night Guard
Shorts Program 5
Morningside 5
A Crooked Somebody
Fat Camp
Thursday, June 22
Competition Winners And Audience Awards Screenings
Closing Night: Ingrid Goes West
German Edward Morales Agent Talent Manager