M.A.R.S. Festival – Music and Arts ReSound Los Angeles 2017
April 14, 2017

-

April 23, 2017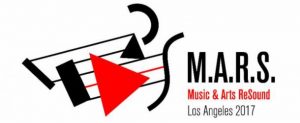 Music & Arts ReSound (M.A.R.S.) is a festival based on interdisciplinary cooperation between different forms of contemporary music, applied arts and independent film, with the target of creating platforms for internationally established musicians and artists of all kinds to promote their work and open new perspectives on seeing music through cross-artistic pairings. These carefully curated and hand-picked events will expand musical imagination by blurring the borders between music and other applied arts. Artists involved will choose a concept and theme that will govern their collaborative process, and foster a wider array of interests for audiences than those of a usual contemporary music festival. Visual art, film, fashion and dance will bring an understanding and conceptualization of music to a higher level of awareness for both the performers and the audience. The festival will provide the necessary infrastructure for creating and fostering such collaborative platforms, and will do so in all major cities around the globe.
The first installation of M.A.R.S. will focus on Los Angeles, bringing together the artistic sensibility and expertise of local artists who live and work in and around the city, and attesting to the factor of migration that this SoCal capital sees every day.
The second installation will similarly take place in and focus on a specific metropolitan area, Berlin. However, as we move into the second installation a year later, its birth place and forefather M.A.R.S. LA will not cease to exist. Instead, M.A.R.S. Festival will take over Berlin and Los Angeles at the same time, connecting the musicians, artists, and audiences through the means of Virtual Reality – merging and blurring the geographical realities of the two cities.
Moving on to the third installation of the festival, M.A.R.S. will add to its roster yet another world capital, New York City, and simultaneously exist in all three locations. In each subsequent year M.A.R.S. will expand further to a new city, creating an interconnected web of places, arts, musicians, performers and audiences, all the while maintaining and honoring both its roots and newer generations of the festival that will eventually be present in every major city of the world.
The line-up for M.A.R.S. FESTIVAL 2017 here:
Ensembles
Kaleidoscope Chamber Orchestra
M.A.R.S. Collective
International Contemporary Ensemble
Ensemble Pamplemousse
Composers
Jorge Sánchez Chiong
Katharina Rosenberger
Saad Haddad
Charles Peck
Alyssa Weinberg
Clemens Gadenstätter
Chaya Czernowin
Salvatore Sciarrino
Ashley Fure
Stefan Prins
Alexander Schubert
Natacha Diels
David Broome
Andrew Greenwald
Jessie Marino
Wen Liu
Performance/Visual Artists
Tiffany Trenda
Victor Wilde
Jay Mark Johnson
Amy Kaps
Daniel Leighton
Dosshaus
Jennifer Vanderpool
Jesse Gilbert
Joe Rubinstein
Kio Griffith
Kristine Schomaker
Ned&Shiva Productions
Osceola Refetoff
Pearl C. Hsiung
Bryan Jacobs
Thomas Sturm
Experimental Bands
Thumpasaurus
Korduroy
M.A.R.S. FESTIVAL 2017 will offer eight-days of free events — titled M.A.R.S. Test Site Salons — curated by art critic Shana Nys Dambrot featuring multimedia experiences, performance art, as well as artists using new technologies to create festival-specific sculptural installations. These artists, combined with experimental musical guests, will invite and activate these spaces in a nightly series of salon-style cross-platform events throughout the week.
Individual show passes with complimentary parking are available for $30 per person ($10 for students). In addition, a variety of ticketing and VIP packages are available — ranging from $50-$250 per person — that include perks, such as access to artist rehearsals, participation in exclusive artist gatherings and after parties, VIP Meet & Greets, and personalized gifts from the M.A.R.S. team and artists. For tickets and more info, visit festivalmars.com and connect @festivalmars on Facebook, Twitter and Instagram.
German Edward Morales Agent Talent Manager