Downtown LA Art Walk
April 13, 2017 @ 6:00 pm

-

10:00 pm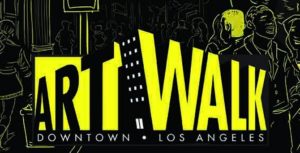 For the third consecutive year, the Downtown Los Angeles Art Walk will participate in World Art Day festivities.
This international event led by the IAA/AIAP (International Association of Art in official partnership with UNESCO), takes place yearly on April 15th, Leonardo Da Vinci's birthday, and celebrates international collaboration through art. In honor of this worldwide celebration, IAA USA, the newly formed U.S. chapter of the IAA headquartered in Los Angeles, will host projects in the form of exhibitions, pop-ups, artist talks, performances, and site-specific installations in private and public spaces.
The Downtown Los Angeles Art Walk is pleased to join IAA USA as a media partner, and will contribute specially-themed programming to World Art Day for this occasion. IAA USA – World Art Day is a fiscally-sponsored project of the Downtown Los Angeles Art Walk, a tax-exempt public charity promoting the visual arts and culture in Downtown Los Angeles.
Although World Art Day is officially celebrated on April 15th, participating galleries and art venues throughout Los Angeles will offer arts-based programming over a 4-day window starting on Thursday, April 13th, and ending on Sunday, April 16th, 2017.
The IAA USA Launch & Fundraiser: WORLD ART DAY will be held on Saturday, April 15th, from 7 to 10pm at Howard Griffin Gallery in Downtown Los Angeles. More details will be announced shortly. For media credentials, please contact iaausaorg@gmail.com
Downtown Art Walk: World Art Day Programming
Lilli Muller – The Mandala Project
Grand Park's Pop-Up Parks, featuring a preview of the Portals Project
Thursday, April 13th, 2017 – 6 to 10PM
Downtown Art Walk Lounge and Gallery, 634 S. Spring St., Los Angeles, CA, 90014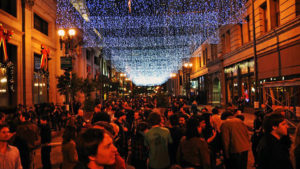 The Downtown Art Walk Lounge and Gallery presents a special performance by German-born, L.A.-based artist Lilli Muller. Titled "The Mandala Project – A Collective Meditation on Humanity", this ongoing series of interactive community performances is in response to the current paradigm shifts and consequential eruptions of drastic changes worldwide. Due to travel around the world to activate public spaces where traumatic upheavals have taken place, this performance series aims to commemorate, celebrate, and heal, while offering a renewed sense of hope. For her special Art Walk performance, Muller will arrange participants in the shape of a mandala in the center of the Edison Room Gallery at the Downtown Art Walk Lounge. As a symbolic representation of the effort to unify, this performance will be a continuous circle created over and over by the "bodies" of passers-by wishing to participate in a public ritual based on both eastern and western concepts of the mandala. Muller will guide participants and audience in a collective moment of silence, to freeze-frame this chain of humanity in one photo capturing an instant of togetherness. This performance offers the community a physical unifying form, built from those who exist within it, to express the current cultural shifts and preserve some of what is being lost.
Additionally, the Downtown Los Angeles Art Walk Lounge will host Grand Park's Pop Up Park, which will include projected footage of everyday activity from around the world tied to the Portals Project activation in Grand Park, April 10-23. Audiences interested in experiencing Portals Project in Grand Park can sign up for an appointment to speak with someone around the world about life, food, family, the weather or any other topic they want to discuss to gain a new perspective on other communities far away. A vibrant outdoor gathering place, Grand Park is a beautiful public park for the entire community in Los Angeles County. Grand Park's Pop Up Parks allow a small piece of the 12-acre park to "pop up" in small spaces, along sidewalks, and gatherings. More information about the Portals Project at Grand Park can be found at grandpark.la.org/portalsproject.
CALL FOR PROJECTS: IAA USA invites curators, gallery directors and artists/cultural producers as well as schools, museums, and cultural organizations, to submit projects (exhibitions, installations, pop-up, performances, etc.) to coincide with World Art Day celebrations held throughout Los Angeles, April 13-16, 2017. The deadline for inclusion is Friday, March 31st, 2017. See full details here: http://bit.ly/2l6ndRa
ABOUT IAA USA AND "WORLD ART DAY"
World Art Day is an international celebration of the arts declared by the International Association of Art (IAA/AIAP), a partner of UNESCO, to promote awareness of creative activity worldwide. The first World Art Day was held on April 15th, 2012. In the United States, World Art Day was officially held for the first time in the City of Los Angeles on April 15th, 2015, and has been celebrated yearly ever since. In 2017, IAA USA, the official U.S.-based chapter of the IAA/AIAP, was formed. The mission of IAA USA is to stimulate and inspire national.-international artistic collaboration and advocacy, and to improve the economic and social standing of member artists. The Association looks forward to facilitating World Art Day celebrations locally, and nationwide. Visit them online at IAA-USA.org
ABOUT THE DOWNTOWN LOS ANGELES ART WALK
The Downtown Los Angeles Art Walk takes place on the second Thursday of each month, attracting over 12,000 attendees to the Historic Core. For over 12 years, Art Walk remains the premier self-guided public art phenomenon in Downtown Los Angeles, bringing together art lovers, community members, and repeat visitors who collect art, dine, and shop at local businesses. Additionally, the Downtown Art Walk organization serves as a launchpad for a diverse group of emerging artists, artisans, and micro-businesses, while offering accessible public arts programming to constituents including children, youth, and underserved populations. Find us online at DowntownArtWalk.org
German Edward Morales Agent Talent Manager