The Young Hollywood Showcase – 2015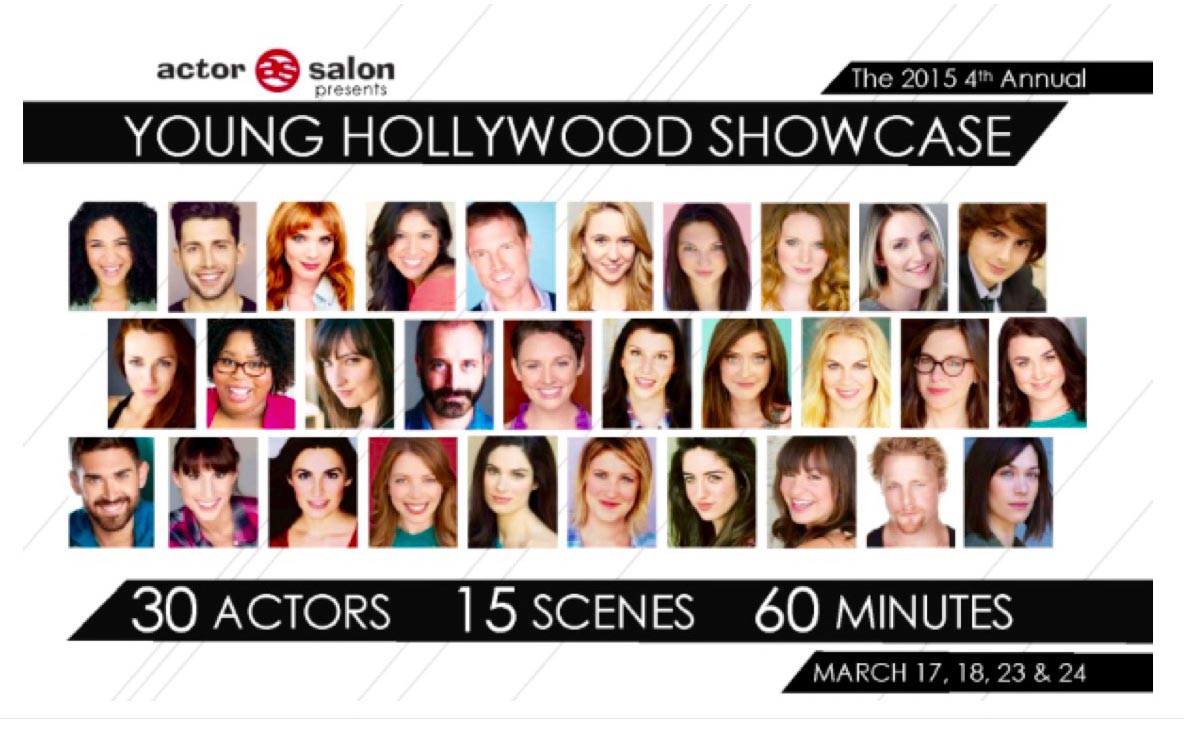 This is not your traditional showcase … this is an event!  30 of our finest actors present 15 fast-paced scenes in a raucouly fun 60 minutes.  Cocktails and hors d'oeuvres will be served before and after the performance in the speakeasy.
Last year's showcase starred 28 people and we had great success.  The demand this year is high, and spaces are limited.
Last Year's Attendees:

Bohemia Group, Management 360, CESD Talent Agency, Desi Valentine Music, CESD Print, Meyer Management Group, Rough Diamond Productions and Management, The Jerry Pace Agency, Bullock and Snow Casting, JEFFREY LOSEFF MANAGEMENT, Rough Diamond Productions and Management, Stage 9 DDO Artists, Freeze Frame Entertainment, Coast to Coast, Stage 9 DDO Artists, Ray Hughes Management, Law Offices of Neal Sobol, Recreate Life Coaching, The Jerry Pace Agency, The Talent Scout, Elkins Entertainment, Bx2 Management, Duchess of Television, Society Entertainment, SC Management, Omnium Entertainment Group, CESD Talent Agency, Company Name, Coast to Coast, Sony Pictures Television – Talent & Casting, Actor Salon, BEVERLY HOLLOWAY CASTING, Commercial Talent Agency, Full Circle Management, Brick Entertainment, Stein Entertainment, SHERRIE HENDERSON & ASSOCIATES, Face to Face Talent/90210 Talent Agency, The Young & The Restless, Cutaway Creative, Donna Rosenstein Casting, Brick Entertainment, The Actors' Network – President/Founder, Donna Rosenstein Casting, RRM, Maurice Taylor Insurance Brokers, Inc, Michael McCaskey Casting, Michael McCaskey Casting, Across the Board Talent, Bella Agency, Bella Agency, friend of actor salon, The Friedman Group, Bloc Talent Agency, Friend of Jenna's, LemonTree, Yumi Takada Casting, Hyper Group, BEVERLY HOLLOWAY CASTING, Jaime Ferrar Agency, Alan Siegel Entertainment, Shannon Makhanian Casting, Craig Campobasso Casting, Odenkirk Provissiero Entertainment, Off The Page LLC, Torque Entertainment, Dream Big Casting, Linda McAlister Talent, Epic Pictures Entertainment, Pinnacle Commercial Talent, Guest of Lisa Kaminir, Project Studios 505 LLC, TNT / TBS Casting, Pamela M. Staton Casting, Sister of Lisa Kaminir, Nate's fam,Network Talent Agency, Scott David Casting, Friend of Salon, Tlynn Talent Management, Oddlot Entertainment, Company Name, AZOULAY MEDIA, Brady, Brannon & Rich Talent (BBR), days of our lives casting, Divimage, BBR Talent Agency, TCA Jed Root, Alan Siegel Entertainment, Barney's Beanery/Q's billiard club, Fender Musical Instruments Corp, Stay Tuned TV, Amsel, Eisenstadt, Frazier & Hinojosa, Inc., Carry On Productions LLC, John Rosenfeld School, Jorge Perez Reps, Affirmative Ent., Universal Television, Marilyn Atlas Management, Sanford Casting, House Casting, Studio 1080, The Brogan Agency, Route One Films, D2 Management
German Edward Morales Agent Talent Manager