4th Annual LMGI Awards
April 8, 2017 @ 6:00 pm

-

9:00 pm

THE LMGI AWARDS are an internationally recognized celebration of the outstanding creative contributions of location professionals and film commissions from around the world.  The LMGI Awards pay tribute to contemporary and period film and television, as well as commercial advertising. Hosted by Rico Gagliano 
​

This year's special honorees include:   CLICK FOR PRESS RELEASE 
Oscar°‐winning director DANNY BOYLE  |  Eva Monley Award
Location Professional STUART RAVEN BARTER  |  Lifetime Achievement Award
Location Scout LORI BALTON  |  Trailblazer Award
​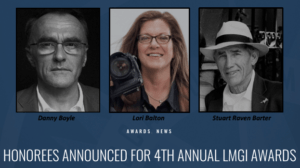 ​
Among the presenters will be Brad Silberling and Alexander Payne. Participants and honorees of past awards include feature films and television series such as The Revenant, The Grand Budapest Hotel, Game of Thrones, Wild, Sense8. Directors Wes Anderson, Brad Silberling and Alexander Payne; actor Amy Brenneman; and cinematographer Haskell Wexler have also been honored. Attendees and sponsors at the gala represent all aspects of the international production and entertainment community.
Winners will be announced at the ceremony Saturday, April 8.
As previously announced, the nominees for the 4th ANNUAL LOCATION MANAGERS GUILD INTERNATIONAL AWARDS are:
OUTSTANDING LOCATIONS IN A PERIOD TELEVISION SERIES
Game of Thrones – Matt Jones/LMGI, Naomi Liston/LMGI
Stranger Things -Tony Holley/LMGI
The Crown – Pat Karam, Robert Bentley/LMGI
The Man in the High Castle – Nicole Noelle Chartrand, Robert Murdoch
Westworld – Mandi Dillin/LMGI
OUTSTANDING LOCATIONS IN A CONTEMPORARY TELEVISION SERIES
Better Call Saul, Season 2 – Christian Diaz de Bedoya
Bosch – Robert Paulsen, Paul Schreiber/LMGI
Goliath – Jason Kaplon/LMGI, Mike Barry/LMGI
Scandal – Veronique Vowell/LMGI
The Affair – Sean Ilnseher
The Night Manager -Tom Howard, Daniel Sampedro Palerm
OUTSTANDING FILM COMMISSION
Creative Scotland – The BFG
Nevada Film Office – Jason Bourne
New Mexico Film Office – Hell or High Water/Preacher
NY State Governor's Office of Motion Picture Development – The Girl on the Train
Royal Film Commission of Jordan – Rogue One: A Star Wars Story
OUTSTANDING LOCATIONS IN A COMMERCIAL
"Bulbs" (Macbook Pro) – David Doumeng/LMGI, Charlie Love/LMGI
"Rally" (O Organics) – Byll Williams/LMGI, Phill Kane/LMGI
"The Carpool to Rio" (Visa) – Heather Haase/LMGI, Ron Shino, Johnny Catrolli, Rob Darwin
"This Land is Your Land" (Johnnie Walker) – JJ Levine/LMGI, Will Brewster, Patrick Burn, Dana Hanby
"World's Biggest Asshole" (PSA Donate Life) – Galidan Nauber/LMGI, Cale Hanks
OUTSTANDING LOCATIONS IN A PERIOD FILM
Hacksaw Ridge – Edward Donovan
Hail, Caesar! – John Panzarella, Leslie Thorson/LMGI
Hidden Figures – Wes Hagan/LMGI, Dan Gorman/LMGI
Live by Night – JJ Hook/LMGI, Laura Bryant
Rogue One: A Star Wars Story – Mark Somner, David O'Reilly/LMGI
OUTSTANDING LOCATIONS IN A CONTEMPORARY FILM
Hell or High Water – Jonathan Slator/LMGI, Erik Keeling-Torrez
Jason Bourne – Chris Moore, Peter Martorano/LMGI
La La Land – Robert Foulkes/LMGI, Steve Beimler/LMGI
Lion – Hugo Cran, Sandeep Rudra, Harsh Dave
Manchester by the Sea – Kai Quinlan, Alex Berard
The Location Managers Guild International (LMGI) is an organization of experienced career professionals in the Motion Picture, Television, Commercial and Print production industries. LMGI members are dedicated to the establishment of professional standards of personal conduct, safety on the set and business ethics. They support the formation of strong links with business members, governmental agencies and local communities. The Guild promotes awareness of the goals and achievements of members to the general public and within the industry through creative, educational and philanthropic programs. The LMGI was founded in 2003 as a 501(c)(6), non-profit corporation as the LMGA and rebranded in 2016 to reflect its growing International membership. The LMGI is not a labor union, it does not represent Location Managers/Scouts in wage or working condition negotiations. For more information about the #LMGIawards, visit locationmanagers.org or follow the LMGI on Facebook and Twitter @The_LMGI.
German Edward Morales Agent Talent Manager